Food and beverage manufacturers have unique challenges to address as our planet's population grows; as severe weather events from climate change intensify; and as environmental, regulatory, and social pressures increase.
Sustainable food production is a complex challenge with many variables. However, a great starting point is looking at the fundamentals: understanding impacts to water, energy, and transportation systems, and to the environment. Additionally, companies can apply digital tools, data, and processes to help plan and design optimized facility systems. Sustainable operations are best deployed when viewed and planned holistically for maximum cost-efficiency and system integration.
Keep Planet Impact Top of Mind
With current demands on the world's food supply chain already pushing existing environmental systems, preparing a facility to be future-ready in a sustainable way means taking ecosystems both inside and outside the facility into consideration. Analysis of large-scale climate trends can expose potential climate threats that facilities may sustain in years to come. Geographic Information System (GIS) tools can analyze potential sites to maximize cost saving and access to water and clean energy.
Additionally, infrastructure rating tools, such as EnvisionTM, can measure and track resource use. Through data analysis, these tools help identify local sourcing options and reduce emissions, energy, and water use. Site developers can increase environmental stewardship without sacrificing functionality or cost by aligning sustainable goals with data analysis tools.
Integrate Water Use/Reuse
Both established manufacturers and emerging companies need to evaluate their water demands when setting and executing plans for carbon neutrality and energy independence. A unique challenge faced in process design at food and beverage manufacturing facilities is hygienic/sanitary design.
Entire operations can come to a halt if these systems fail, causing loss of both time and raw materials. A water audit and condition assessment will look at usage, locate any leaks, and uncover re-use opportunities. Digital water tools can keep water systems running efficiently, and incentives from local utilities may even be available to offset the cost of the improvements.
Manufacturing facilities could potentially reuse water from sources such as filter and membrane reject water, process water reclamation, rain or storm water, condensate from air handler equipment, foundation drain water, or cooling equipment blowdown.
Build in Resilient, Decarbonized Energy
For food and beverage manufacturers, the planning and investments needed to reach sustainability goals are met with the challenge of keeping up with increasing production demands to meet a growing global food supply chain. It's a complex, delicate system affected by everything from changing climate patterns and evolving dietary preferences to stricter regulations and international health crises.
None of these variables indicate any sign of going away, either. As landmark legislation around all-electric buildings continues to hit the books, developers in some states are shifting from natural gas in favor of electric-ready design to reduce carbon outputs of their buildings.
External variables aside, reliable and resilient energy is a priority for any food and beverage manufacturing facility. If systems go down, revenue loss is inevitable. All stakeholders—investors, developers, farmers and facility workers—rely on strategic planning that prepares their facility to adapt to extreme environmental, social and regulatory risks. Adaptation could include boosting energy efficiency, adding on-site renewable energy and storage, converting waste to energy, implementing anaerobic digestors, and utilizing carbon capture.
Clean Up Transportation/Goods Delivery
The transportation and logistics of moving products through the supply chain can significantly impact a company's carbon emissions. Additionally, according to the Department of Energy, 14 states and 27 cities have implemented mandatory electric vehicle infrastructure code provisions and part of new commercial and residential development.
Whether for a new facility in development, or for transitioning fossil-fuel powered vehicles to electric or hydrogen fuel cell electric, adding clean fleets provides the opportunity to look at your facility and transportation energy use holistically, and to plan now for future power needs as vehicles transition, whether those vehicles are your own – from freight to warehouse equipment – or whether you are working with external goods delivery providers.
Leading-edge companies like Sysco are implementing all-electric refrigerated tractors and trailers. Sysco has committed to reduce its scope 1 and 2 emissions by electrifying 35% of its U.S. tractor fleet and sourcing 100% renewable electricity for its global operations by 2030.
Is it Really Achievable?
The food and beverage industry has the power to design facilities at the intersection of innovation and sustainability. Becoming more efficient with natural resources, and adding on-site renewable energy, helps you build resilience, stay in control of operations schedules, and weather the storms. By building or improving your facility with a carbon-free future in mind, your reputation as a sustainable company increases the marketability of the products you manufacture and that of your entire brand. Funding resources, including grants and incentives, also can reduce the upfront costs, and set your operations up for success well into the future.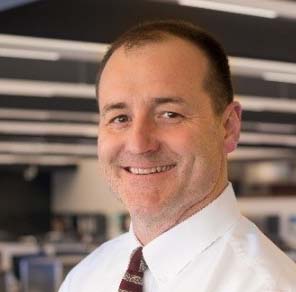 By Russ Schertz
Russ Schertz is a project director, Industrial and Manufacturing, at Black & Veatch. He has extensive experience working with food and beverage manufacturers ranging from start-ups to Fortune 500 companies. Connect with him on LinkedIn.