---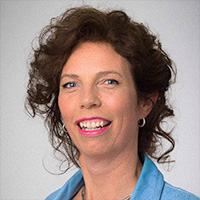 Gabrielle Kalkwijk
President of Global Manufacturing Operations
Dawn Foods
With over 25 years of experience in the food manufacturing industry, Gabrielle leverages her strong leadership skills and operational expertise to drive efficiency and effectiveness across Dawn's manufacturing plants. As a member of the Dawn Leadership Team, Gabrielle is focused on developing and implementing consistent processes and calibrated systems throughout Dawn's global manufacturing footprint.
Her passion for leading, collaborating and connecting with people has led her to develop strong, cross-functional teams, which have delivered powerful results. Joining Dawn in 2012 as Vice President of Operations in Europe & AMEAP (Africa, Middle East and Asian Pacific), Gabrielle contributed to significantly increasing Dawn's operational efficiency, improved quality assurance and ensured that the safety of Team Members was always put first.
Gabrielle lives in the Netherlands and enjoys spending time with her family. She especially loves to go horseback riding with her daughter in the forest near their home.
---