---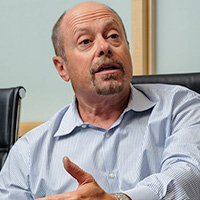 Mark Braun
President and CEO
Nuestro Queso, LLC – Hispanic Cheese Makers
Mark Braun is a multiple time entrepreneur. Since May of 2010, he has served as the President and CEO of Nuestro Queso, LLC – Hispanic Cheese Makers. (NQ). NQ is an SQF level III, Midwest manufacturer of premium Hispanic Cheeses. The company produces private brands for major U.S. retailers, distributors and other manufacturers in a highly competitive industry. The Company converts raw milk into cheese from its 68,000 SQ FT. manufacturing facility located in rural Illinois, just south of Monroe, Wisconsin and just east of Iowa.
Mark is supported with by a highly professional board that includes the recently retired CFO from McDonald's Latin America, The Managing partner of Private Equity of First Trust Capital Partners a $120 Billion money management firm and the family office of the largest former bottler of Coca Cola.
Mark is currently on the board of ABP Induction Systems GmbH (ABP), located in Dortmund, Germany (formerly ABB Foundry Systems) which has for decades been the world's leading manufacturer of high-throughput induction melting, pouring and heating equipment.
Previously, from 2005-2010, Mark was the Managing Partner for Asymmetric Bond Markets, a proprietary trading operation that focused on interest rate derivatives. Prior to that he started, grew and sold a successful chain of fresh market retail food stores.
The Company's Mission is to delight its customers with superior quality and service, building unsurpassed and sustainable value for its customers, employees and investors. The Company's vision is to become the leading preferred dairy company producer for Hispanic Cheese manufacturing while enhancing sustainable value for all stakeholders. The Company employs 95 exceptional people, all of whom are committed to the Company's goals have been an inspiration to this unique Company.
Mark's education included Economics/Finance-Undergraduate 1981-1983 at the University of Illinois, Urbana-Champaign; Program on Negotiation at Harvard Business School in 1996; and Advanced Economics/Strategy-Graduate School of Business 2000-2003 at the University of Chicago.
---