---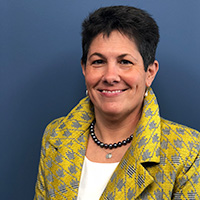 Patty Smith
President and CEO
Valley Milk, LLC
Patti Smith is a business leader with 30 years of progressive leadership experience in the food ingredient and dairy industries. In March 2016, she became the President and CEO of Valley Milk, LLC, a newly established dairy ingredient processor and marketer of premium milk powders in Turlock, CA. Previously, she held several senior level positions with global organizations including leading the human nutrition division for Roquette America, a specialty food and nutrition ingredient processor. Patti also spent over 15 years with global multinational dairy co-operative Fonterra, where she held a variety of roles with increasing scope in Quality Assurance, Production Management, Customer Service Management, and Global Account Management.
As a business leader in the local community, Patti is active in the Turlock and greater Modesto area within California's Central Valley. She is active in industry and national organizations, including being a Board Member of ADPI and an Executive Leadership Board Member for American Heart Association.
Her educational background includes a Bachelor of Science in Food Technology from Iowa State University and an Executive MBA from the University of Chicago.
An avid lover of the outdoors, Patti enjoys running, yoga and walks with her dog exploring nature. Patti and her husband Dean have been married for 31 years and have one daughter, Tricia. Tricia is married and has one daughter who just turned 1 year old.
---