---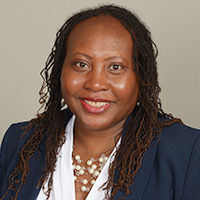 Samara P. Heaggans
Owner
SH Reid Consulting Solutions
Samara Heaggans is the owner of SH Reid Consulting Solutions, a full-service consulting firm for the for Food & Beverage industry.
Samara Heaggans has over 20 years of experience in the Food Industry.  Prior to starting her own consulting business, her most recent position was Director of Commercialization and Enablers for Campbell Soup Company.  During her 17+ year tenure at Campbell Soup, she held various roles in Research and Development doing process development and has launched over 30 successful new products. 
Prior to joining Campbell Soup, Samara spent 5 years at Frito-Lay where she worked as a Project Engineer and in Process Development. She also developed the process and launched Tostitos Scoops for which she holds a patent.
She earned a BS in Chemical Engineering from Hampton University in Hampton, VA and an MS in Chemical Engineering from The Johns Hopkins University in Baltimore, MD. Samara holds 2 patents and sits on the advisory board for the Hampton University Engineering department.
---