COVID-19 / Coronavirus Update Message
Last Updated:
We have been monitoring the evolving situation around COVID-19/Coronavirus, which, as you know, is changing rapidly. The health and safety of everyone at Food Automation & Manufacturing Conference and Expo is important to us, and we have decided that this event will be postponed and take place September 13-16, 2020 in Miami, Florida.
Our top priority is the health and safety of all participants at these events including attendees, sponsors, vendors and staff. Due to the magnitude of the unanticipated public health and safety issues, in addition to increased travel restrictions, we have determined that postponement at this time is the best, most productive approach for all.
We will continue to work very closely with the city of Miami, the Doral and local, state and federal public health authorities to maintain constant communication on this front.
Below is a helpful link as you look to travel to the area:
https://www.cdc.gov/coronavirus/2019-ncov/travelers/index.html
Notice to Registrants for Original April Dates
Please look for important follow up from Food Engineering's Food Automation & Manufacturing Conference and Expo and related vendors that will include logistical details resulting from the postponement. We are 100% committed to the Food Automation & Manufacturing Conference and Expo, accordingly will be rolling over any payment received as a credit for the new dates: September 13-16, 2020.
If you were scheduled to attend in April, these are your immediate next steps:
Registration fees. Any payment received will be rolled over as a credit for the new dates: September 13-16, 2020.
Cancel your hotel room. If you made a hotel reservation at any of the participating hotels, please contact the hotel directly to cancel your reservation. We cannot do that on your behalf and the hotel will not do it automatically.
Call your airline. Most airlines are waiving change fees and allowing you to either rebook your ticket for a future flight or providing a voucher for the full amount of the ticket for a future booking.
We value the support and feedback of everyone involved in preparing for this important event. We appreciate your professionalism, patience and understanding during these truly extraordinary times.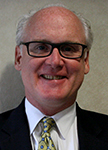 Mark Tisdale
Publisher Food Engineering