---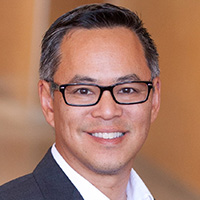 Apollo Nguyen
Interim CEO
Van's Kitchen
Van's Kitchen interim CEO Apollo Nguyen has nearly three decades of experience working at the company. Prior to his current role, Apollo previously served the company as its chief operations officer (COO), partner and plant manager.
With a comprehensive background in manufacturing, as well as his ability to deliver creative and strategic leadership, Apollo has helped build a successful national egg roll manufacturing company. In addition to his position at Van's Kitchen, Apollo is also a partner of MetroTech LED Lighting and the business manager of Regnum Christi in Atlanta.
The Nguyen family immigrated to the United States in the late 1960s from Vietnam. In 1975, Apollo's family relocated to Dallas. In 1986 his parents started VAN Oriental Food, a specialty egg roll vendor focused on creating quality products and job opportunities for its diverse community. Apollo began working for his family's business in 1998.
Apollo earned a bachelor's degree in mechanical engineering from the University of Texas at Austin. He also holds a master's degree in theological studies from the University of Dallas.
---