---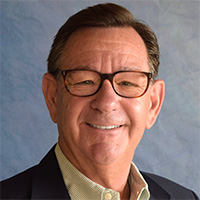 Doug Clemens
Former CEO,
Clemens Food Group
Doug grew up in the family business. Up to the age of two, he lived in a house that once stood directly outside the Hatfield facility's front door.Therefore, Doug cannot remember a time when he was not, intimately involved in the family business.
Doug officially began his career as a company team member in 1978. Starting in livestock procurement and making his way across the organization thru Operations and various Business Development positions. He eventually moved into the President's role of Clemens Food Group, and ultimately became the CEO of the Clemens Family Corporation.
Doug directed substantial advancement of the business during his tenure, growing sales from $370 million to over $2 billion last year. He guided the company through major building projects including a new 650,000 square foot harvesting facility in Coldwater MI, a new 300,000+ square foot ready-to-eat smoke house operation at the Hatfield campus, and a new state-of-the-art feed mill currently being constructed in central Pennsylvania. These growth projects have led to an improved vertical coordination strategy of their supply chain, and ultimately resulted in the addition of over 3,000 team members during his time in leadership. After a 44-year run, Doug retired as Chairman of the Board of Directors of the Clemens Family Corporation in December of 2022.
---