---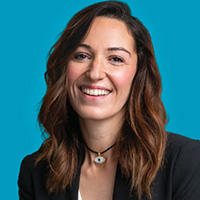 Farrah Sibai
President and Co-founder
Afia
As President and Co-founder of Afia, Farrah Moussallati Sibai is dedicated to making authentic Mediterranean cuisine more accessible to Americans and empowering women and children to pursue their best selves.
Born in England and of Syrian descent, Farrah, with her husband and business partner Yassin Sibai, launched Afia in 2017. She was inspired to create Afia after relocating to Austin, TX from Syria. While she loved her new hometown, Farrah missed the Mediterranean foods her family enjoyed back home and saw an opportunity at grocery stores. Additionally, she recognized how food created a sense of belonging, through her time volunteering with refugees who were resettling in Texas.
Afia found its first retail distribution at H-E-B in 2019 and proudly became H-E-B's Diversity Supplier of the Year. The company was also selected as one of the Chobani Incubator brands that same year.
Afia now sells six SKUs of their signature falafel and kibbeh at 3000+ retail locations nationwide and online, doubling distribution in 2021. They took their first round of investment in 2020 and are building a new facility, set to open later in 2022.
Farrah has a goal to serve the community by donating to hunger relief organizations and employing and mentoring members of the Austin refugee community.
---