---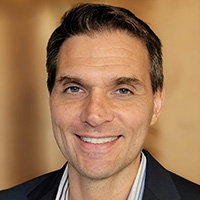 Matt Maiers
Global Account Director
Enchanted Rock
Matt Maiers is a Global Director with Enchanted Rock and focuses upon supporting manufacturers achieve operational reliability utilizing zero-carbon, advanced microgrid technology solutions. Matt works closely with large manufacturers to help evaluate potential resiliency risks at operational locations, develop scope and budget for a resiliency and decarbonization plan, and support internal business case and technical analysis decision process.
Through Enchanted Rock's unique 'Resiliency-as-a-Service' business model which provides full facility power redundancy along with utility grid support capabilities, Matt is able to apply his passion for renewable energy to help drive the industry towards decarbonization and accelerate the adoption of low carbon solutions.
Matt has over 20 years of experience in the manufacturing and energy sectors, including a diverse renewable energy background with project development, operations and technology scale-up and commercialization experience in Wind, Solar, Energy Storage, Biogas and Waste-to-Energy technologies. Matt has a Bachelor of Science and MBA degree from Oakland University in Michigan.
---