---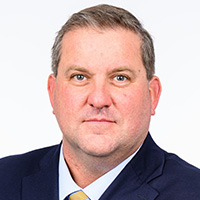 Rob McRae
Vice President of Transportation
Univar Solutions
Mr. McRae became the Vice President of Transportation for Univar Solutions in October 2020. Responsible for the overall strategic development, P&L activity, and execution of Univar Solutions transportation operations within the United States, Mr. McRae is an active leader in the transportation industry where he currently serves as a federally appointed member of the Surface Transportation Board's Rail Shipper Transportation Advisory Council.
With over twenty years of blended logistics, distribution, and transportation experiences, Mr. McRae previously served as the Chairman of the Board for the Private Railcar Food and Beverages Association while holding roles of increasing responsibility across multiple divisions of PepsiCo's North American Beverages. Additionally, Mr. McRae served as Regional Manager, Florida, for DHL and has served as a Management Consultant for multiple areas of logistical business. Mr. McRae proudly served his country for 15 years in the U.S. Army and U.S. Army Reserves as a Captain with combat tours in Bosnia and Iraq and is an honored Bronze Star recipient.
Mr. McRae received his bachelor's degree in business management from Florida State University and a master's degree in business administration from Kent State University.
---