---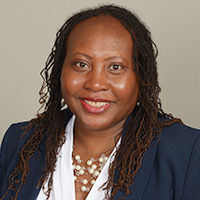 Samara P. Heaggans
Director of Process & Product Development
KDC Agribusiness/ Do Good Foods
Samara Heaggans is the Corporate Director of Process & Product Development for KDC Agribusiness/Do Good Foods – a startup that uses upcycled food from grocery stores to create animal feed. Samara Heaggans has over 25 years' experience in the Food & Beverage Industry. She owns her own Food & Beverage consulting business, SH Reid Consulting Solutions, and prior to joining KDC Agribusiness she was the Director of Commercialization and Enablers for Campbell Soup Company's C-Fresh division. During her 17+ year tenure at Campbell Soup, she held various roles in Research and Development and launched over 30 successful new products.
Samara also worked at Frito-Lay, where she worked in Process Research & Development. She developed the process and launched Tostitos Scoops for which she holds a patent.
She earned a BS in Chemical Engineering from Hampton University in Hampton, VA and an MS in Chemical Engineering from The Johns Hopkins University in Baltimore, MD. Samara holds two patents and sits on the advisory board for the Hampton University Engineering department and Food Engineering magazine.
---