Exhibitor Floor Plan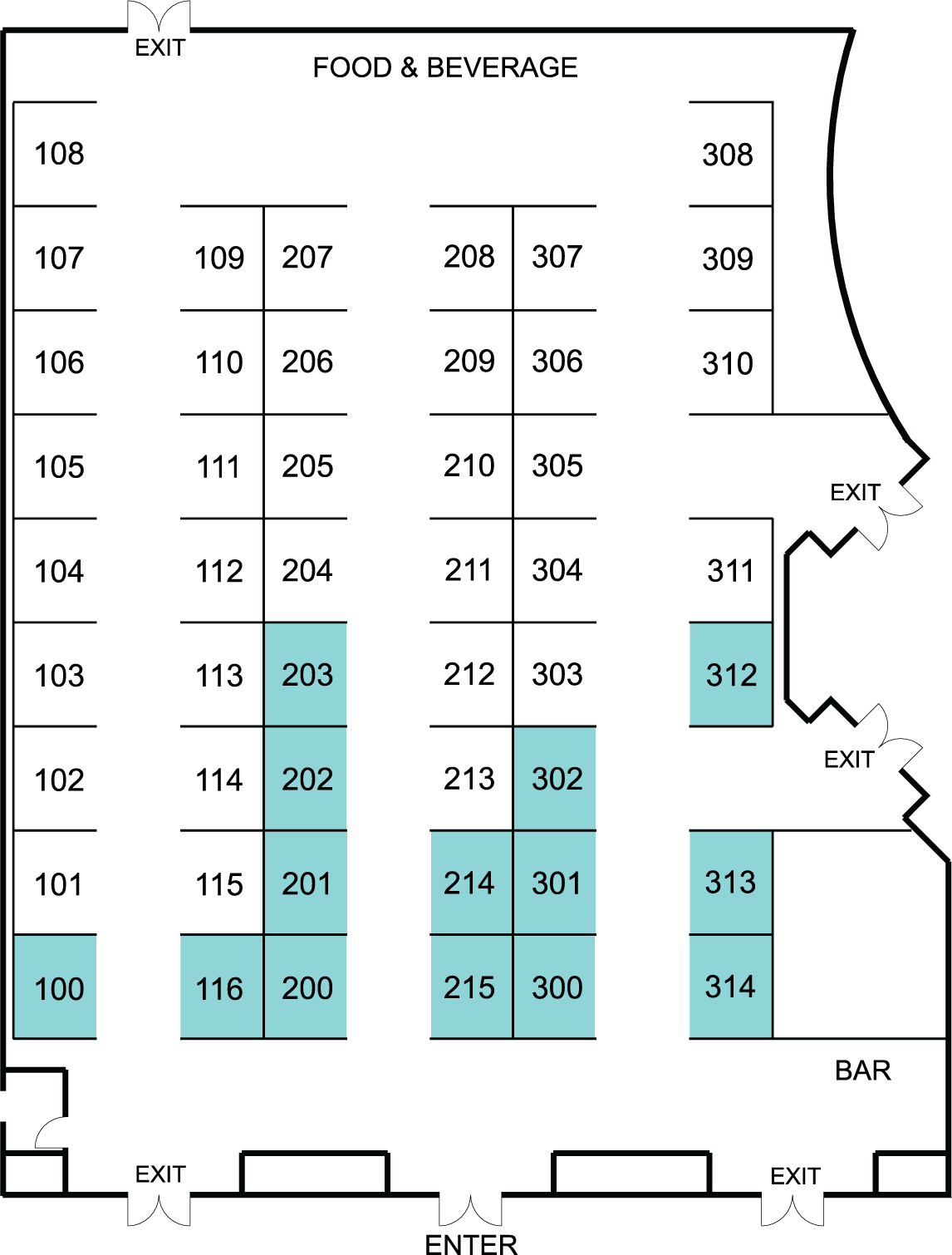 TABLETOP
sort
COMPANY
sort
100
Shick Esteve

2021 Exhibitor

As the only global provider focused solely on the food industry, Shick Esteve will be showcasing the latest in ingredient automation solutions and process design. Our process controls are integrated into our system design with Clarity™ by Shick Esteve which provides data clarity in a contextual format. Our expertise includes process design and automation of bulk, minor/micro and liquid ingredients. Project services include engineering, project management, testing, site services and after sales support.

101
K2 Kinetics

2021 Exhibitor

K2 Kinetics is a total solutions provider specializing in automation design, engineering, and integration of packaging solutions that seamlessly fit into the current plant operations and future capital needs of our customers. We work with global food and beverage brands to offer turn-key solutions to their post-processing packaging needs. Our best-in-class team of packaging automation experts collectively brings more than 150 years of talent and industry experience to your project.

102
ParityFactory

2021 Exhibitor

ParityFactory designs warehouse management solutions that help food and beverage processors modernize and make the most of their capital investments. Our platform integrates with all major ERPs and enables users to automate the tracing and materials control process, leading to an efficient, intelligent and paperless shop floor.

105
Orkin

2021 Exhibitor

For over a century, Orkin has drawn the inspiration for our approach from our founder Otto Orkin – to understand pest behavior and implement a plan to attack the problem at its source. Ever since 14-year-old Otto started his own pest control business, we've been committed to helping businesses like yours by using our expertise to stay one step ahead of pests.

107
Bronkhorst USA

2021 Exhibitor

Bronkhorst USA expertise in the measurement, control, and dosing of low flow liquids and gases enables our customers to improve their processes. We focus on flow in tubes, not pipes.

Bronkhorst® make a significant contribution to improving the products people around the world encounter daily.

108
Krohne, Inc.

2021 Exhibitor

KROHNE is a world-leading manufacturer and supplier of solutions in industrial process instrumentation. KROHNE Inc., headquartered in Beverly, MA is place of business of the KROHNE service and sales in the United States.

109
Clayco

2021 Exhibitor

Food & Beverage innovation starts by mixing the "art and science of building." As a trusted full-service, turnkey real estate development, master planning, architecture, engineering and construction firm, we safely deliver the highest quality solutions on time, on budget, and beyond expectations. We are helping drive the Food and Beverage industry forward by providing fast track, efficient solutions for facilities that need to perform while exceeding safety and quality standards.

110
Plex Systems, Inc.

2021 Exhibitor

From the top floor to the plant floor, control every aspect of your operations with a single system. The Plex Smart Manufacturing Platform's cloud-based ERP and MES features allow you to easily eliminate paper processes and keep product safety a priority. Now, there's a recipe.

114
Axiflow Technologies, Inc.

2021 Exhibitor

Axiflow Technologies only focus is on Positive Displacement Twin Screw Technology. Our team of technical professionals provides many years of experience in all areas of processing in order to give the best results for every customer. Axiflow has a proven record of successes in the Food and Beverage Industry.

116
QAD

2021 Exhibitor

QAD delivers rapid, agile and effective cloud ERP and Manufacturing systems that help F&B manufacturers overcome today's disruptions. QAD knows that the F&B industry must comply with ever-evolving safety and environmental regulations. QAD Food and Beverage ERP software solutions allow companies to achieve critical market goals within the industry.

200
Interstates

2021 Exhibitor

Interstates offers electrical construction, electrical engineering, and control systems services. For over sixty years, we have tackled complex challenges and developed innovative solutions for industrial manufacturing and processing facilities around the world.

201
Clextral USA

2021 Exhibitor

Clextral's twin-screw extrusion helps processors make foods that consumers crave: delicious plant-based meats, creative snacks and breakfast cereals, quality pet food and treats, functional ingredients, and much more! Learn how twin-screw technology is making today's foods more nutritious–sustainably, efficiently, and economically.

202
SEW-EURODRIVE

2021 Exhibitor

SEW is a world leader in drive technology and a pioneer in drive-based automation, SEW-EURODRIVE has established a reputation for quickly solving the most difficult power transmission and motion control challenges. We introduced the gearmotor in 1931. In the 80 years since then, we have been bringing the best in drive technology to our customers. That commitment has led to a history of innovations — the first variable speed gearmotor, early development of electronic drives, some of the first successful efforts to decentralize control, and the first motor with energy-efficient copper rotors.

203
INFOR

2021 Exhibitor

Infor is a global leader in business cloud software products for companies in industry specific markets. Infor builds complete industry suites in the cloud and efficiently deploys technology that puts the user experience first, leverages data science, and integrates easily into existing systems.

204
Hexagon PPM

2021 Exhibitor

205
Leica Geosystems

2021 Exhibitor

206
SlipNOT

2021 Exhibitor

SLIPNOT is a leading provider of specialized safety flooring products and surface technologies, for the walkways, entryways, stairs, rails and ladders where you live work and play. When transforming potentially hazardous spaces into SLIPNOT environments, up to 90% of slips and falls can be avoided.

207
The Scale People

2021 Exhibitor

THE SCALE PEOPLE provides Nationwide weighing solutions for food companies ranging from raw materials, process mixing, quality assurance / control to finished goods.

Our products are all very high precision & include; Tank & Hopper, Washdown Floor & Bench scales, In line checkweighers / Metal detection, Formulation scales, test weights, Moisture analyzers & more.

We are here to help you & offer free assessments, engineering services, commissioning and calibration services.

208
GF Piping Systems

2021 Exhibitor

GF Piping Systems provides safe and reliable transport of liquids for industrial process control. Its thermoplastic systems feature non-corroding light weight, maintenance-free performance. Industries like food and beverage production, refrigerated storage facilities, and others have found thermoplastics to be an excellent alternative to the frequent replacement costs of metal systems.

209
Everactive

2021 Exhibitor

Everactive produces data intelligence for the physical world. Operating without batteries, the company's always-on wireless sensors deliver continuous cloud-based analytics at a scale not possible with battery-powered devices. Everactive's end-to-end solutions are built upon groundbreaking advances in ultra-low-power circuit design and wireless communication that allow it to power its Eversensors exclusively from harvested energy. The company has developed the required networking and cloud software to deliver an out-of-the-box service focused on providing high-value insights.

210
Sanitation Specialists

2021 Exhibitor

We provide outsourced sanitation solutions to food processing companies. Our programs provide the trained employees, tools, chemicals, supervision & documentation. Support for FDA, USDA, SQF 2000, BRC, FSIS ISO 22000, and some of the more industry-specific audits. Sanitation when done right can drive savings in utilities, lab sample costs and labor utilization.

211
Hansen-Rice Inc

2021 Exhibitor

HANSEN-RICE, INC. leverages more than 38 years of food processing expertise to provide integrated design-build services beginning with the earliest stages of planning. This includes conceptual design and engineering, budgeting, due diligence services, master planning, scheduling, process equipment coordination, general contracting and self-perform construction solutions.

212
Atkore Calbrite/Calbond

2021 Exhibitor

Calbrite Stainless Steel Conduit Systems and Accessories for the harshest environments and sanitary requirements. Calbond offers a complete line of PVC coated, fittings and accessories for the protection of electrical conduit systems in highly corrosive environments. Visit us in booth #212 or at calbrite.com or calbond.com

213
Rytec Corporation

2021 Exhibitor

Leading the Way in High-Performance Doors

For over 35 years, Rytec has been focused exclusively on design, innovation and manufacturing of high-performance doors. Market-leading companies across a variety of industries rely on Rytec for outstanding quality, performance and reliability.

With over 100,000 doors in operation, our doors provide security, safety and energy savings and require only minimal maintenance. We offer our customers the highest value and day in, day out performance, and are supported by the knowledge and expertise of dedicated employees, authorized dealers and trained installers.

214
ALS Global

2021 Exhibitor

Identify risk with rapid testing. Detection of allergens, Salmonella, Listeria, E. coli O157 Specializing in molecular biology with the latest RT-PCR, ELISA and Maldi-TOF based services, ALS' rapid pathogen detection systems provide highly efficient assays for the detection of allergens, Salmonella, Listeria or E. coli O157 in food and environmental samples.

215
CRB

2021 Exhibitor

CRB is a leading provider of engineering, architecture, construction and consulting solutions, delivering safe, high-quality, value-driven facilities to fuel your growth and success. Our more than 1,000 employees provide best-in-class solutions that drive positive change for our clients, our people and our communities. CRB is a privately held company serving clients throughout the world, consistently striving for the highest standard of technical knowledge, creativity and execution.

300
VDG (Van der Graaf)

2021 Exhibitor

VDG is the industry leader in the design and manufacture of drum motors for belt conveyors in all types of industries. The innovative sprocket-less SSV drum motor designed specifically for food processing and handling belt conveyor applications, exceeds industry expectations in sanitation and operator safety.

All VDG drum motors are engineered and manufactured in the USA and Canada since 1985, employing state-of-the-art production technology, ensuring quality, fast delivery and after sales support. VDG offers customized conveyor drive solutions to a wide customer base.

301
Silikal America

2021 Exhibitor

Silikal is an ultra-hygienic seamless floor. Silikal flooring cures in one hour at temperatures down to 0°F! This means that a Silikal installation can be fit into your schedule often without loss of production saving your company thousands. Expect more from your floor.

302
Perry Construction Management

2021 Exhibitor

Perry Construction Management is a certified SDVOSB construction management company specializing in projects for Fortune 500 organizations, with a focus on food and beverage. PCM manages capital expenditure projects from conception to completion using our proven process to help clients to achieve project success through competent, capable construction management services.

303
Advanced Equipment Inc

2021 Exhibitor

Advanced Equipment Inc. is a Canadian-North American premium manufacturer of IQF Tunnel and Spiral Freezers. Our professional and licensed engineers have three decades of design, refrigeration and manufacturing experience. Since 1985, we have custom built over 500 industrial freezers to exceptional quality standards, shipping to over 20 countries.

304
SideDrive Conveyor Co.

2021 Exhibitor

SideDrive Conveyor Co., an NCC Company, provides completely configurable and modular sanitary side drive conveyor solutions. SideDrive is the only company in the world to exclusively focus on and use edge driven belting for hygienic spiral and long-run conveyors that eliminate transfers and create a smooth and effortless motion.

305
Kingspan Insulated Panels

2021 Exhibitor

Kingspan is a global leader in high-performance building envelopes with ideal solutions for thermally controlled environments such as cold storage freezers and coolers, food processing, and packaging facilities. In addition, Kingspan's controlled atmosphere solutions offer high value product protection and hygienic control.

306
WRH Industries, Ltd.

2021 Exhibitor

US-made automation-optimized processing and handling trays, bins, totes, pans and moulds. Our patented FDA polymer moulding method makes virtually unbreakable products, non-stick surfaces and NSF-designs replacing stainless steel, aluminum, fiberglass and inferior plastics. A family business serving the food, confectionery, pharmaceutical, distribution and industries since 1958.

307
RC Stevens / JE Dunn Construction

2021 Exhibitor

JE Dunn and R.C. Stevens formed a strategic partnership that leverages our shared expertise to deliver best in class manufacturing and distribution facilities. Together, we have deep knowledge and experience within the food & beverage and process industrial markets. R.C. Stevens is one of Florida's oldest and most experienced construction leaders. JE Dunn is an expert builder of industrial, manufacturing, laboratories, clean rooms, distribution centers, mission critical facilities and central utility plants. Much of this work has been performed for multi-national clients that are market leaders.

We share a commitment to understanding our clients' needs, priorities and sensitive focal points. Not only do we specialize in seamless design-build and integrated project delivery, but our broad range of expertise and capabilities is driven to provide highly effective solutions. In fact, R.C. Stevens was the first builder in Orlando to design and construct projects for clients.

It is our goal to partner throughout the entire project life cycle, from site study and selection support to conceptual programming through construction, installation and post-construction.

308
Ashton Potter

2021 Exhibitor

Ashton Potter provides a comprehensive solution to supply chain and ingredient/component management through ProLinc®. A modular, scalable and web based forensic traceability solution to help manufacturers ensure product integrity, quality, and compliance from raw goods to finished product and beyond. Automate reporting and traceability down to a forensic level in real time.

309
VaCom Technologies, Inc.

2021 Exhibitor

"We design, implement, and monitor high-payback industrial refrigeration control systems which maximize the energy efficiency, equipment reliability, and utilization rate of your food & beverage, and cold storage facilities. We apply our Expertise in Industrial Refrigeration Controls and Energy Efficiency Projects with the Largest Food & Beverage, Cold Storage Companies, and Design-Build Contractors in the World and help them meet their Sustainability & Carbon Reduction Plans."

310
SafetyChain Software

2021 Exhibitor

SafetyChain is the #1 Plant Management Platform purpose-built to improve yield, maximize productivity, and ensure compliance standards for food, beverage, & CPG facilities. With fully integrated tools for production (OEE & SPC), safety and quality (QMS), and supplier compliance, our configurable cloud-based software drives real-time visibility and control to optimize performance across all of your manufacturing locations.

311
Sani-Matic

2021 Exhibitor

Sani-Matic Inc. delivers reliable sanitary process cleaning solutions through custom engineering, automation, and craftsmanship. Founded in 1943, the Wisconsin-based manufacturer serves food, beverage, personal care, nutraceutical, and biopharmaceutical industries with products including CIP systems, COP parts washers, cabinet washers, automated reporting software, tunnel washers, 3-A certified strainers and spray devices.

312
Herding

2021 Exhibitor

Herding® Sinter-plate filter systems feature sanitary designs with industry leading performance guarantees for filter life (15+ years) and HEPA grade emission values. The FDA compliant media adds "zero" contaminants back to the process making Herding systems ideal for 100% product reclaim, virtually eliminating yield loss in many applications.

313
Demand Driven Technologies

2021 Exhibitor

Demand Driven Technologies helps enable manufacturing and distribution companies to achieve breakthrough performance through the application of Demand Driven tactics and technologies. Our DDMRP solutions align inventory to true market demand to strategically position inventory, increase service levels, and improve visibility and materials flow across the supply chain.

314
Schenck Process

2021 Exhibitor

Schenck Process is a complete global source of highly accurate pneumatic conveying, sifting, grinding, blending, milling, weighing and feeding systems for dry bulk solids with additional expertise in air filtration. Whether conveying 300,000 lbs. of sugar or feeding small amounts of food additives, the experienced staff at Schenck Process will work with you to select the most cost-effective and energy efficient technology for your product.