Welcome to the new FA&M report, with more extensive coverage than ever before of Food Engineering's premiere event. And, following this report, all the companies that exhibited at 2018 FA&M's Expo are listed. 
We had so many great speakers this year and so many new and innovative companies showing off their solutions at the Expo that they made this event one of the most exciting in years!
We hope you enjoy this report and find it an inspiration and motivator to attend 2019 FA&M.

Automation Keynote Address:
Driving Sustainability through Digitalization, Automation and People Empowerment
One of the main purposes of FA&M is to explore the future of food processing and what food and beverage companies are doing now to position themselves well for the next few years.
In his keynote presentation, Vicente Olivo-Espinosa, director of information solutions for Maple Leaf Foods, discussed how Maple Leaf has embraced digital tools to drive its business goals and to support its operations into the future.
Olivo-Espinosa oversees supply chain management and manufacturing operations and has experience in business process optimization, strategy and innovation, operational excellence and leadership, as well as extensive expertise in automation of manufacturing processes.
Maple Leaf has operations across Canada and the US and is headquartered in Toronto, Ontario. The supply and manufacturing network consists of 35 manufacturing plants, 500-plus control systems and robots, 150-plus ovens, coolers and freezers, and employs more than 12,500 people.
An important part of Maple Leaf's mission is to become a leader in sustainable manufacturing, and it has created "pillars" to support its goal, including using only natural ingredients, maximizing its use of information technology to build a digital future and innovating its engineering and processes to eliminate waste.
Additionally, the pillar model is used to drive the company's goal of operational excellence. In his keynote presentation, Olivo-Espinosa outlined the six pillars making up this system, which are:
Direction setting: This pillar guides the operational staff in how the work is to be done in terms of maximizing production efficiencies and facilitating effective communication among managers and workers.
Health and safety: This pillar includes best practices for operators to safely run all equipment on the plant floor.  
Food safety and quality: This pillar sets the high standards of food safety and quality of food produced in the plant. 
Waste elimination: This pillar includes strategies to minimize all waste in the plant, which includes minimizing wasted materials, time, resources and equipment capacity.   
Autonomous maintenance: This pillar uses technology, such as sensors and machine learning, to optimize equipment effectiveness. 
Preventive maintenance: This pillar includes using IIoT tools and strategies to prevent equipment breakdowns before they happen. 
To enable these pillars, the company focuses on product innovation, process and technology, information solutions and its supply chain. This is all done under the overarching discipline of the Six Sigma continuous improvement model, as well as instilling a "leadership edge" culture at the company.
Olivo-Espinosa says a key part in supporting all of the company's goals is to build its "digital future."
"This has to do with working together with the operational groups, engineering, food safety, quality [and] information solutions, to put in place solutions that will support Maple Leaf foods going into the future," Olivo-Espinosa says.
The operational excellence program was designed with just this in mind—to bring together all the aforementioned functional groups in order to get all the programs done.
"We visit every single site, and we go through every single element of operations, and we classify the sites in terms of maturity levels," he says.
Every site gets categorized in order for Maple Leaf to understand where each operation's asset is in its journey to reaching operational excellence. And, he says, driving all of this is the company's vision of building its digital future.
"We understand that when you add digital technology to help people execute their work, there will be a change in the way of working," he says. "New ways of working will be coming, new ways of running operations and new ways of engaging customers."
During the evaluation of each site, the company takes a look at all the different elements of its operation where technology would be beneficial to production, in terms of the sustainability plan, as well as operational excellence. Then, the cost and value of each technology to be employed is analyzed, which is how the company prioritizes what each site receives to determine a development roadmap. 
"This [prioritizing], in conjunction with the five maturity levels categorization for operational excellence, will allow this manufacturing site to become a world-class manufacturing site. That is our target," he says.
To see Vicente Olivo-Espinosa's presentation, please go to the Food Automation & Manufacturing Broadcast Live website.

Increasing Productivity and Throughput Using Lean Management Behaviors
The automation journey food and beverage companies are on isn't always a smooth ride. Mike Bartikoski, senior vice president of operations for Land O' Frost, says his company was experiencing a problem when it made a solid investment in a number of automated packaging lines. However, Land O' Frost found that one of its plants wasn't using them very much, and when these lines were used, they didn't run very well. 
So, the company made a concerted effort to improve its lines' performance by being aware of what keeps them from running well. Part of this was evaluating and ramping up the components the company had in place to measure performance and training, such as Redzone, which does its OEE reporting, and IN3 Consulting, which helps to create job profiles and competencies for Land O'Frost employees. 
"We're making sure they understand what competencies are required and what competencies are required to move up," he says. "And we're training on those competencies to make sure they can progress."
To help employees do their job, Bartikoski says the key is to foster the right type of management behaviors and put in place the capabilities needed to build a lean management framework.
"Lean is not a path to less people," says Bartikoski. "It's how you empower and engage your people."
He says the cost of disengaged employees is very costly to companies, with a disengaged workforce having 37 percent higher absenteeism rates, 49 percent more accidents and 60 percent more errors and defects.
"Companies that get [engagement] right have 18 percent higher productivity, 16 percent higher profitability and 37 percent greater job growth," Bartikoski says.
In an effort to strike the right balance between people and technology, Land O'Frost has put a focus on recruiting, training and retraining qualified employees in a tight labor market. The company has committed to using a transformational leadership approach, new technologies to support its people,  training and developing employees' skills.
To see Mike Bartikoski's presentation, please go to the Food Automation & Manufacturing Broadcast Live website.

Next-Level Craft Brewing
Craft brewing has taken off over the last decade, making it perhaps the highest-growth category of all food and beverage segments in recent time. Bell's Brewery is an example of a  small, independent brewery that has experienced this meteoric growth from the demand for its products.
From its humble beginning in Michigan, where it has been selling commercial beer since 1985, the brewery has grown to be the seventh-largest craft brewer in the US, producing 424,426 BBL. Nathan Schroeder, beer production engineer for Bell's Brewing, says all this growth resulted in a combination of new extensions and expansions, in addition to older plants, all of which had to be brought under one unifying automation philosophy.
"Over the past nine years, I've installed a new brewhouse, many fermentation cellar passion projects and the automation re-control project, which brought a unified automation software platform to all of our operations," says Schroeder.
To produce high-quality and great-tasting beer, tight controls must be placed on temperature variation. To ensure the correct temperatures are achieved in the fermentation process, automation must be employed. In the early days of the brewery, employees made use of single-point controls, but in 2006 with the installation of a new lauter tun, the company reconsidered its plant automation.
"We had 45 fermentation tanks at this point, and we were going to move to 76, so single-point controllers were no longer a viable option," he says. "We wanted to have more capacity."
Bell's decided to go with a Winbrew process control system and Siemens-based PLCs for new automation control. However, a brewhouse expansion in 2012 prompted the company's relationship with GEA beverage division, which recommended the ProLeiT Plant iT brewmaxx PLC-based control system to run Bell's new 200-BBL brewhouse.
At the time, Bell's 50-BBL brewhouse, its cellar and its 200-BBL brewhouse were all being run by different systems, which made it difficult to clearly see all process information and made training staff very difficult, since workers had to be proficient on three different systems.
By early 2013, all process systems were moved over to the ProLeiT Plant iT brewmaxx solution. Since that time, more fermenters were added, as well as other equipment. Schroeder says moving to one platform has helped Bell's Brewery have greater control over the integrity of its batch processing and eliminate accidental batch mixing. Additionally, the company has found that ProLeiT's system approach is easy to navigate and allows for recipe flexibility, which is crucial for a craft brewery like Bell's, which produces 43 different recipes in its 200-BBL brewhouse and 110 different recipes in its 50-BBL brewhouse.

Engineering Keynote Address:
Gaining Operational Insight Using Data
Operating eight facilities in five states, West Liberty Foods is a co-manufacturer of protein products,  perhaps best known for its sliced luncheon meats. Annually, it produces more than 650 million pounds of sliced, IQF and specialty protein products sold to national grocery stores, as well as restaurant chains. The company only began in 1996, but has grown to be recognized as one of the top 50 protein processors in North America.
Key to its growth and success in the industry has been, in part, the importance the company's places on data.
"We're using data today in ways that guide our organization and what we do on a daily basis and how it changes the way we not only interact with our associates, but the way we interact with our customers and our vendors," says Tracy Walker, operations manager for West Liberty Foods.
To gain operational insight, Walker says she pictures data collection being put on a scoreboard, so she can make decisions based on that information. However, when her plant started this journey, collecting data was done in an ad hoc way, coming in from the MRP systems, various computer files and paperwork, as well as notebooks and even dry-erase boards.
And when data was collected, it wasn't shared properly, which caused problems to go unsolved and frustrate people. To solve this problem, the plant decided to implement a dispatch system and looked for a third-party solution that would gather its data, dispatch its resources and tell the plant what to do to improve.
Eventually, WLF's maintenance department purchased Leading2Lean's lean executive system software. The plant integrated its MRP system with the software and used it to keep track of inventory, work orders and other information that ensured the operational availability was under control.
At the same time, the continuous improvement department wanted to gain more insight into workers' productivity and performance. So, the company started to keep track of production data and, within in a month, noted a 20 percent jump in productivity. 
"We found that people liked having a goal, people liked having a visual scoreboard, people liked knowing what was going on, and more importantly, they liked to know what other people were doing," Walker says.
In a year, Walker's plant was entering 100 percent of its maintenance and production data into the Leading2Lean operator portal, where all the information is kept.
"The interesting part of what this has done for our facility is it's taken away the guesswork, it's taken away the questions, it's put a scoreboard out for all the associates, regardless of position, where they always know where they're at, when they need to make a change, when they need to perform a function," she says. "And we've only scratched the surface on what Leading2Lean is really capable of at the West Liberty location."
As for next steps, the plant is planning to use the dispatch system to include audits on the production floor, which will help with the plant's paperless transition. Also, the company is integrating maintenance and production dispatches for dispatchers, which Walker says will foster a collaborative mindset between the departments. And eventually, the data from the Leading2Lean system will be pulled automatically to populate downtime and productivity information.
To see Tracy Walker's presentation, please go to the Food Automation & Manufacturing Broadcast Live website.

Manufacturing for Modern Tastes
It's no secret that consumers want different processed food and beverages than what was offered to them in the past. The emphasis is now on food and beverage consumer packaged goods that have cleaner labels and are healthier and more nutritious.
"We are seeing a very complex problem arising," says Jasmine Sutherland, president of Perfect Fit Meals and Texas Food Solutions, a toll provider of high-pressure processing (HPP) services to food and beverage manufacturers located in southeast Texas and Louisiana. "It's requiring a novel solution."
In 2014, Perfect Fit Meals was the first to market with HPP ready-to-eat meals. Because the company realized its unique talent in creating innovative HPP products quickly, Perfect Fit Meals started the toll processing side of its business, which helps customers to effectively produce HPP products, as well as helping with lab testing and regulatory hurdles.
Sutherland says, in the early days, Perfect Fit Meals had a shelf-life problem when it first started producing minimally processed meals using traditional food processing equipment. Those meals had about a 10 to 15 day shelf life, which wasn't going to cut it with retailers' growing demands and what they expected from food processors.
"We weren't really able to get out of Texas," she says. "Retailers want minimal waste on shelves and want lower cost to them and lower cost to their customers."
So, the company looked at HPP, which is a cold pasteurization method that uses hydrostatic, or water pressure instead of heat. The pressure used generally exceeds 50-k psi and routinely is around 87-k psi (6,000 bar). The benefits of HPP are that, because it does not use heat, there is no negative impact on food's nutritional value, and because it does not require added chemicals to preserve the food, it produces clean-label products. Additionally, because HPP products are processed in their final packaging, no food or beverage is exposed to the air after being pasteurized, which means the risk of contamination is dramatically reduced.
Because of these benefits and others, Sutherland says HPP is a great tool for product development. However, the equipment has some limitations, mainly the water content requirements of the product, making it not effective on dehydrated products or flour. She also explains the importance of HPP products' packaging and how the shape and materials used can affect the delicate balance of heat, time and pressure necessary to create the proper seal.
To see Jasmine Sutherland's presentation, please go to the Food Automation & Manufacturing Broadcast Live website.

Food Engineering's Plant of the Year Award
As always, Food Engineering presented its winning Food Plant of the Year with the award at the Expo and celebrated the state-of-the-art facility with an informative session and reception. This year, Kraft Heinz was honored for its Oscar Mayer deli meat facility in Davenport, Iowa. This 382,157-sq.-ft. plant, completed by Gray Construction, is the first greenfield construction project to be completed by Kraft Heinz since undergoing its merger.
In the presentation, Craig Smith, operations project lead for Kraft Heinz, and Rob Cubbage, plant manager for Kraft Heinz, took us through the inception of the design and how the facility was built to improve on the processes of an existing Davenport plant.
To present the details of the building process, Tyler Cundiff, V.P. of business development for food and beverage at Gray, provided an inside glimpse at the unique construction challenges and execution to complete a facility employing the highest levels of food safety and automation to optimize efficiency.
For a more detailed look at this plant, please see the Food Engineering April 2018 cover story.

Women in Manufacturing Keynote:
Creating an Inclusive Culture
The third day of the conference kicked off with a FA&M's Women in Manufacturing and Engineering Breakfast, followed by a Women in Manufacturing Keynote by Dawn Cappelli, V.P., global security and chief information security officer, Rockwell Automation.
She started in the industry at 20 years old as a female software engineer.
"I had a really hard time getting people to take me seriously. I worked with almost all guys," she says. "I'd be in a meeting and I'd say something and nobody would react, and then 10 minutes later a guy would say the same thing and everyone would listen."
Her boss, who was trying to help, suggested she wear glasses all the time so the men would take her more seriously.
"That's was his solution, wearing your glasses," she says. "The [other] advice that I got was don't wear a skirt. I doubt that the guys I was with got coaching on what to wear when they went to a nuclear power plant."
She says her company focuses on helping white men be diversity partners, because they are an important part of creating a workplace that everyone feels comfortable in. Specifically, Rockwell has a white men as allies program.
"It really opens your eyes for white males, to what kind of privileges you have had that you don't even realize you have had," she says. "It really pointed out to me the challenges that people have to confront that don't have that white privilege. If it's not politically correct to talk about, we talk about that."
Rockwell also works to create flexible schedules for employees as well as a generous parental leave program, which help both moms and dads these days.
"One thing that I find very fascinating. When I had my kids, it was the mom's job to take the kids to the doctors' appointments, etc.," she recalls. "And when I was at my next job, I hired a lot of graduate students… and most of them were guys, so I had a lot of these guys working for me, they just had gotten out of school and they started to get married and have kids, and these guys don't miss doctor appointments, they don't miss soccer games, they don't miss school recitals. It's not just the moms, it's the male employees that want to do these things as well… and if your employees aren't doing that it is because your company culture just isn't open to that."
Cappelli says companies just cannot afford to ignore diversity issues anymore.
"I think it's really important to support our employees because it's hard to find good people and once you get them in your company, you want to keep them and it's not that hard to keep them if it's a culture that [supports them]," she says.

Women in Manufacturing Panel:
Discussion on Strategies to Fix the Skills and Gender Gap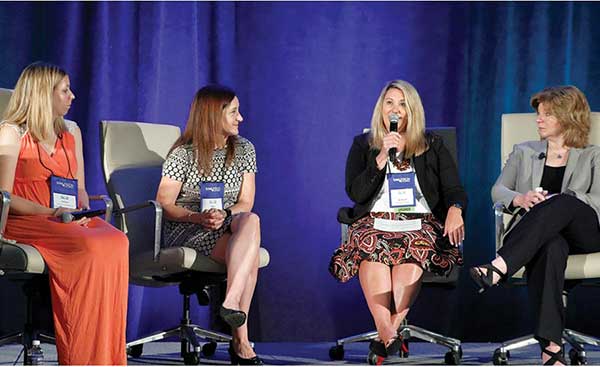 Jasmine Sutherland, Perfect Meals and Texas Food Solutions (left); Tracy Walker, West Liberty Foods (second from left) and Dawn Cappelli, Rockwell Automation (far, right) listen as Allison Grealis, founder and president of Women in Manufacturing (second from right) starts the panel on "Strategies to Fix the Skills and Gender Gap."
This year's FA&M Conference also included the first Women in Manufacturing Panel to highlight the unique challenges they face in the industry and the ways both men and women can work to address those issues.
The panel included:
Jasmine Sutherland, president of Perfect Fit Meals and Texas Food Solutions
Tracy Walker, operations manager for West Liberty Foods.
Allison Grealis, founder and president, Women in Manufacturing
Dawn Cappelli, V.P. global security and chief information security officer, Rockwell Automation
Grealis kicked off the discussion by getting right to the point — women are part of the talent pool and need to be attracted to work at companies the same way men do.
"Companies need to be more flexible and agile as they have a new population of talent they're trying to attract… the parent piece is huge," Grealis says. "Many women and peers of mine are sitting at home and need to find a portal to get into the manufacturing workplace.
She says companies need to be flexible and look for different strategies to keep their talent.
Goforth says things have a come a long way, though.
"There wasn't even a women's bathroom in the plant (at my first job)," she says. "I didn't even know what I was getting into."
For her, the need for mentors was huge.
"I really benefited from having role models and seeing what that looked like," Goforth says.
Cappelli says part of helping women succeed is looking to help the ones already working in the company find ways to grow.
She recalls helping a woman who was one of the com­pany's admin.
"She came to me at one point, she said I have my bachelor's degrees, I just really want to do more. I didn't go get this degree so I could be an admin," Cappelli recalls. "She was going to look outside the company."
Instead, Capelli found a spot for her to move up the ladder.
"She is fantastic, it's such a success story," she says. "These are good women who just want to do more and why let them leave? Let's help them to stay. Let's help women climb up that ladder and further their careers once we have them."
Of course, getting them in the door is the first step. Grealis says they try to partner with local schools and create relationships with community colleges to help change the traditional image of working in manufacturing.
"One of the biggest stumbling blocks are people like me, moms," she says. "[We want moms to] encourage their children to go into manufacturing. It's not dark and dingy and dangerous, and we try to work on that influence and that public perception."

Takeaways from Solutions Theaters
Another beneficial part of the FA&M Conference is our smaller, more intimate breakout sessions, which give companies the opportunity to present their solutions directly to food and beverage processor attendees and address any questions they may have. These are tailor-made talks designed to shed light on the manufacturing challenges attendees are facing every day.
To get a sense of what the companies had to say, FE editors provide a brief synopsis here of the presentations made at the breakout sessions:

Driving the Digital Enterprise for Food & Beverage
Presented by Siemens
Speaker Davide Picciotto, digital enterprise thought leader for Siemens, discussed how new digital business models are disrupting complete markets and why a McKinsey & Company report found 50 percent of companies that attempt to move to a digital model fail.
Picciotto explained that this is due in part to companies not putting digital strategies at the heart of their corporate strategies, as well as investing in siloed digital technologies and not working horizontally across the enterprise. Plus, the cultural aspect of the change is not taken into consideration.
To help food and beverage businesses digitally transform, Siemens has created its innovation platform, which consists of five areas: product design, production planning, production engineering, production execution and services. The benefits of this platform are eliminating handovers, providing seamless access to the whole organization, using workflows to automate lifecycles, and monitoring and controlling every step.
To help facilitate the development and execution of products, Siemens uses its Digital Twin concept, which manages specifications, including regulatory and quality, as well as automatically optimizes formulas based on target settings and regulatory assessment. Packaging can also be designed and its performance simulated as part of the same workflow.
To learn more: www.siemens.com.

Simulations before Implementation
Presented by CRB
In this talk, Niranjan Kulkarni, PhD, director, operations improvement for CRB, talked about how artificial neural networks (ANNs) and event simulations can provide crucial insights to planning plant projects before any ground is broken.
He talked about ANN's objective in transforming inputs into meaningful outputs, as well as how discrete event simulations can display an ordered sequence of events in complex systems. These tools can be helpful in planning plant projects, such as increasing capacity, and can help determine whether a build is required or possibly a reconfiguration of production and packaging lines is sufficient.
However, important to achieving the right results is the selection of the right simulation. Also, building models that focus on fixing the problem a plant is trying to overcome and actually maintaining these models is another key to using simulations effectively.
Kulkarni went over one case study of a plant considering adding capacity, which would've cost $5.9 million. However, through simulation and analysis of its packaging line utilization, the plant determined it could eliminate an entire line. Other analysis determined it could reduce its supporting equipment, as well as assign a more appropriately sized production and warehouse area to meet its needs.
To learn more: www.crbusa.com.

New Solutions for Plant Sanitation
Presented by Van der Graaf
In this presentation, Alex Kanaris, president of Van der Graaf, introduced the audience to the latest developments in sanitary drum motors. A drum motor is one component conveyor drive where the motor, gear drive and all moving parts are closed inside the drum.
Van der Graaf SaniDrive drum motors have been designed to drive modular, monolithic, thermoplastic cleated and wire conveyor belts without the use of sprockets. The belt profile is machined directly on the 316 stainless steel face of the drum and has no crevices where food byproduct and bacteria can be harbored.
Many food and beverage manufacturers have a problem with the empty space that exists in between sprockets, because food can become trapped in it and grow bacteria. Plus, polymer sprockets mounted on a square shaft have a shorter lifespan due to wear.
The solution to this, according to Kanaris, is a motor that does not require the use of sprockets, which the SaniDrive does not, thus, increasing its hygiene and efficiency in comparison to conventional drives. Also, because the design is enclosed, the motor minimizes the safety hazards posed to operators.
To learn more: www.vandergraaf.com.

The Future of Food Manufacturing
Presented by Rockwell Automation
"Smart manufacturing has become a business imperative," said Cory Garlick, Rockwell Automation North American industry manager, in his FA&M presentation. Why? The statistics are scary. Two million manufacturing jobs will go begging by 2025, there are $65 billion worth of automation systems reaching the end of their lifecycle, and 76 percent of recalls cost as much as $30 million each. Less than 14 percent of plants are completely integrated, and 54 percent of facilities suffered an intellectual property loss in the past year due to Wi-Fi. Twenty-one percent of all manufacturing workers will retire in the next five years.
Digitalization can help. There's a lot of work to do in digitalizing a plant, but it can make the difference in light of all these foreboding statistics. Garlick pointed out some real-world examples where digitalization has paid off for processors. For example, automation has helped GEBO CERMEX, a case packer, increase rates to 400 products per minute with one-minute changeover times and 20 percent less friction. Rockwell's integrated architecture helped E. Wedel, a candy manufacturer, increase throughput by 50 percent, decrease changeover time and increase OEE. Kraft Heinz increased production capacity by 10 percent at its Ore-Ida facility by using production analytics and optimization.
Meanwhile, to close the skills gap, Rockwell has set up a corporate program aimed at training and certifying up to 1,000 veterans annually for high-tech roles in manufacturing. As 175,000 veterans leave the military each year, Rockwell saw an opportunity to train highly skilled, motivated and dedicated people who will become experts in automation technology.
To learn more: www.rockwellautomation.com.

Food Quality—Can You See Everything?
Presented by Opto-Engineering
Machine vision inspection is a great tool for checking bottle caps and making sure that products are perfectly aligned in place—where you want the same results every time. But maybe you don't want chocolate chip cookies with the chips in the same place every time. Enter AI-based machine vision. 
"There is a big distinction between machine vision and AI-based machine vision," said Justin Cardenas, area manager, Opto-Engineering. "You can't call them the same [thing], much less think of them as the same. Machine vision is a science that provides imaging-based inspection on preprogrammed rules. AI is designed to simulate human thinking."
AI-based vision is designed to think for itself. Like a human, AI is designed to seek out patterns constantly, learn from experiences and decide on the appropriate response, says Cardenas. "It all boils down to a machine learning without being explicitly programmed." 
So, when you want to make your packages look like they were packed by a human, because "hand-made or packed" means an extra bit of care went into your products, think about AI-based vision and robotics systems. 
To learn more: www.opto-engineering.com.

Looking Ahead to More Efficiency Gains
Presented by SEW-Eurodrive
While motors have steadily been gaining efficiency since 1995 (prior to 1995, gear motors were typically 82 to 83 percent efficient), in 2008, a motor was called premium efficiency if it met international guidelines of 87.5 percent or better, says Chris Wood, SEW-Eurodrive industry account manager-food and beverage. There just isn't much more to be gained. One important thing to remember: These ratings apply to motors running at full load and speed. With anything less, full efficiency can't be realized.
"You have to consider the amount of power it takes to start the motor, acceleration time and then running torque," says Wood. "Otherwise, you don't get that efficiency."
So, what's the issue? Most equipment builders will over-spec an induction motor to make up for power sags. For example, if your calculated horsepower for an application is 3.5, engineers will use a 5 hp motor. But when hundreds or thousands of motors are employed in conveyor applications, wasted energy adds up quickly and costs dearly. Permanent magnet (PM) motors can help solve this problem, because they use 25 to 30 percent less power, as they don't need a field, and once accelerated, they have no slip.
Save money? Yes, says Wood. Where 7.5 to 10 hp motors were used in conveyor applications, Wood found that a 3 hp PM motor would do the job, resulting in significant savings. With a smart drive system right on the motor, wiring can be reduced significantly as well.
To learn more: www.seweurodrive.com.

Digitally Transform Operations with IIoT and Hybrid/Cloud Development
Presented by Schneider Electric 
"Why digital transformation?" asks Keith Chambers, AVEVA (formerly Schneider Electric Software) global director, operations and execution systems. "There are a number of market drivers affecting manufacturing: [the] need of variety, pressure on margins, increasing regulatory obligations and rapid response to consumer issues."
Chambers says there are significant business outcomes a processor should derive from digital transformation. For example, improving operational performance, maximizing reliability and bringing agility into the plant, so it can manage this variety and safeguard the quality of finished goods—and be in compliance with all the regulations.
Enter cloud technology, IIoT and edge servers. Chambers points out three use cases for IIoT-enabled applications?, especially for archiving collected data and predictive analytics—a very hot topic today:
Extend existing configurations with shadow sensing: Take wireless sensors and collect data in parallel with existing systems and send this data to the cloud.
Enable semi-automated and manual plants: This is a great way to leapfrog over partially automated or nonexistent systems.
Connect distributed systems: IIoT can connect systems within a single plant for monitoring, or it can connect several plants.
Chambers goes on to describe today's "hybrid cloud" technology that is becoming a popular alternative to purely cloud systems or purely onsite systems. An edge server connects the cloud to the plant as a one-way street for pulling up data from the plant monitoring systems for analysis. It then allows personnel to analyze the data collected in the cloud through cloud-based or facility-based applications. 
"So, what are the value propositions for the hybrid cloud?" asks Chambers. "It's all about the cost of ownership—taking away the headache of having servers in the plant [and] someone who needs to make sure those servers are up and running." 
Basically, this architecture allows users to purchase the computing power they need, when they need it and where they need it, and subscription-based software doesn't have to be a capital expenditure. 
To learn more: aveva.com.