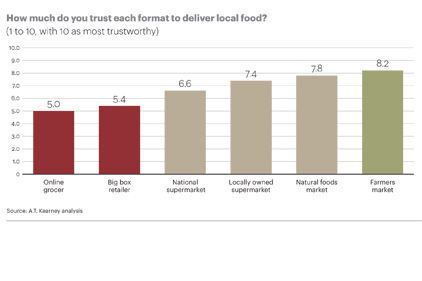 Consumers ranked online grocers as the least trustworthy format to deliver local food, followed by big box retailers. Natural foods markets and farmers markets scored highest.
The trend toward local food is here to stay, according to a new report from A.T. Kearney. The report, Buying into the Local Food Movement, assessed shoppers' decision-making about buying local and non-local food. The results show consumers have strongly embraced the local food trend, with local food ranking as an even higher consideration than organic foods.
According to Study Leader James Rushing, grocers should take the trend toward local food into account. "Clearly, local food cannot be ignored as a growing segment for the grocery industry, and we've learned larger-format food retailers still have much work to do to earn the trust of consumers in providing quality local food products," he says. "But the additional work and costs are worth the effort in the customer loyalty gained."
Consumers prefer to support local food options like farmers markets and produce stands for a variety of reasons. Two-thirds believe it helps local economies, 60 percent say it delivers a broader and better assortment of products, and 45 percent say it provides healthier alternatives. Almost 30 percent of grocery shoppers say they would consider purchasing their food elsewhere if their preferred store does not carry local foods.
If that preferred store is a big box retailer, national supermarket or online retailer, it will also likely have to overcome a lack of trust in its ability to delivery local foods. Consumers ranked online retailers last in trustworthiness, followed by big box retailers and national supermarkets. Farmers markets and farm stores were ranked most trustworthy, followed by natural foods markets and local foods markets. The report recommends that national supermarkets and big box retailers focus on improving assortment and presentation to overcome the trust gap.
Sixty-eight percent of respondents believe local food contributes positively to sustainability, while only 50 percent say they believe organic foods contribute to it. That disparity implies environmentally conscious consumers prefer local food over organic food. The evidence also suggests they're willing to pay more for it—70 percent of respondents say they would accept a higher price for local food.
Recommendations to retailers include understanding fresh matters by adequately presenting local foods in terms of shelf space and location. Retailers should also convey local products' authenticity to overcome customer suspicions and generate trust. One strategy for highlighting local food assortment is in-store signage or the creation of a special section. Retailers must avoid underestimating the potential impact on their supply chain, as having farmers near stores even in limited quantities will force a reconsideration of the supply chain model.
To read the full text of the report, visit ATKearney.com.