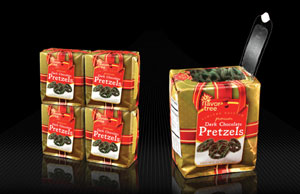 PrimaPak is a new flexible film that is stackable and recloseable, and achieves up to 70 percent weight savings compared to rigid plastic jars. Source: Clear Lam.
Clear Lam Packaging has introduced a line of stackable, reclosable flexible packaging films, designed as a replacement for rigid cans, bottles, jars and trays, as well as select flexible packaging.
The PrimaPak flexible package is produced from custom rollstock on Clear Lam's PrimaPak vertical form/fill/seal machine. The package is a multi-layered film, laminated onto several proprietary substrates to improve heat resistance. The package has six sides and can be produced in a variety of shapes and sizes beyond a cube, including custom shapes like hexagons or octagons.
Clear Lam developed a new method of improving the rigidity of the package while enhancing shelf appeal and achieving up to 70 percent weight savings compared to rigid packaging. In addition, the Peel and ReSeal Lid opens easily, stays open and reseals with a light touch.
The technology reduces the package cube up to 30 percent or more which helps maximize manufacturing efficiencies while meeting warehousing space and transportation demands. The result is a pop-up box that retains its shape during transport and stores well on retail shelves.
PrimaPak can be used in bakery, deli, nuts, produce and other food-related applications, says Clear Lam Packaging CEO James Sanfilippo. A PrimaPak packaging system was developed for John B. Sanfilippo & Son's Flavor Tree brand, to be used in the launch of its limited edition premium dark chocolate pretzels. The premium package and product will be sold throughout the holiday season.
For more information:
Jim Foster, Clear Lam Packaging, 847-439-8570, jfoster@clearlam.com