New Products
Technology Sourcebook
Bar Packaging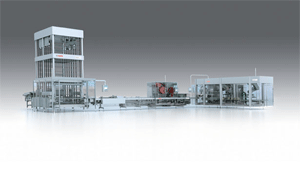 Engineered for the primary and secondary packaging of bars and bar-shaped products, the Bosch Packaging Systems bar packaging line includes a Sigpack HRM horizontal flow wrapping machine and Sigpack TTM cartoner, as well as a station, accumulator and interfaces; all the components are part of a single design, with their speeds balanced to eliminate bottlenecks. The cartoner runs at speeds up to 150 cartons/ min., enabling an overall output of a 1,000 bars or more per minute. Automated precision splicing can be achieved at speeds up to 150 meters/min. Packaging formats and styles can be changed as needed, and the line can be modified for cold, heat and ultrasonic sealing.

Bosch Packaging Technology; www.boschpackaging.com



I want to hear from you. Tell me how we can improve.