New Products
Technology Sourcebook
Cup packaging line
Meeting all 3-A Sanitary Standards, the Oystar Erca M-F 14 cup packaging line for the food and dairy industries forms, fills and seals cups of various shapes and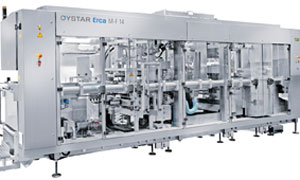 sizes at a maximum forming depth of 70mm at a rate up to 21,600 cups/hr. Electro-pneumatic cabinets and a filler are integrated into the base; a simplified human/machine interface contains only stop and start prompts. The packaging line uses a standard programmable logic controller.
OYSTAR USA; 732-343-7600; www.oystar-group.com


I want to hear from you. Tell me how we can improve.