New Products
Technology Sourcebook
Heavy-duty caster
With a load rating up to 40,000 lbs. per caster, the Hamilton Caster Ultra Maxi-Duty caster has a 14- x 14-in. mounting plate that is 1 in. thick. The main load bearing assembly has 2 precision thrust bearings. A 1 1/2-in. 4-point contact bearing combines with the thrust bearings to provide durability under extreme loads. The caster comes with poly press-on, forged steel or Nylast (high-capacity cast nylon) wheel types. Single- and dual-wheel versions are available.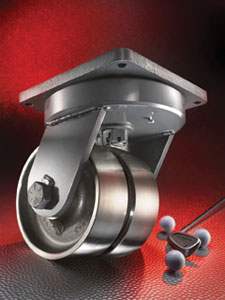 Hamilton Caster & Mfg. Co.; 800-733-7655; www.hamiltoncaster.com


I want to hear from you. Tell me how we can improve.