Packaging
Sustainable aseptic juice carton
Almost two years after Chinese juice processors started using liquid paperboard containers certified by the Forest Stewardship Council (FSC), a US food manufacturer has scrambled aboard the sustainable aseptic carton bandwagon.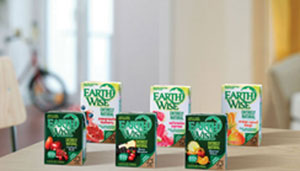 Johanna Foods owns the distinction of being the first North American company to use Rainforest Alliance-certified aseptic cartons. The firm's Earth Wise brand also is sold in noncertified gabletop containers. Source: SIG Combibloc Inc.
Johanna Foods Inc., a Flemington, NJ copacker, recently began filling shelf-stable 100 percent juices and 25 percent juice drinks in FSC-certified 125- and 150-ml (4.2- to 5.1-oz.) cartons. For good measure, the cartons also carry the Rainforest Alliance's green-frog seal.

The liquid paperboard is supplied by SIG Combibloc Inc., which had to demonstrate to FSC that all of the wood fibers used to make its cartons came from responsibly managed forests. Johanna is using the certified material exclusively with its Earth Wise line, though it may become available to other brand owners at a later time.

Johanna also has an organic juice line, but organic sales have been lackluster. The company created the Earth Wise brand in 2010 to tap into the all-natural product segment, promoting an absence of high fructose corn syrup and artificial colors in the juice. The first products were filled in gabletop cartons. Those cartons are supplied by Evergreen Packaging, which does not have an FSC-certified chain of custody program. The gabletops are chilled products, while SIG only offers aseptic packages.

The first application involving SIG's FSC-certified cartons was in February 2010 by Ocean Spray in the UK. Other suppliers of aseptic cartons have introduced similar certified cartons since then. Johanna's distinction is that it is the first US-filled product. v

For more information:

Tim Kirchen, SIG Combibloc Inc., 610-546-4135






I want to hear from you. Tell me how we can improve.