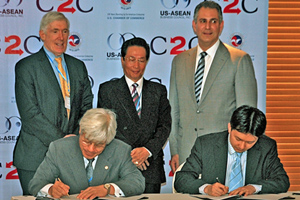 (Standing left to right) Robert Hormats, US Under Secretary of State for Economic, Business and Agricultural Affairs; His Excellency Dr. Sat Samy, Secretary of State of the Cambodian Ministry of Industry, Mines and Energy; and Francisco J. Sánchez, US Under Secretary of Commerce for International Trade, witnessed the contract signing by Kenji Uenishi, president of GE Energy Asia Pacific (left) and Peter Sok Puthyvuth, SOMA Group CEO (right). Source: GE.
The SOMA Group, a Cambodian industrial conglomerate, selected GE's Waukesha gas engine technology to power a new, rural rice husk biomass energy project. The project is said to be Cambodia's first integrated biomass gasification-gas engine solution to supply renewable electricity to the local grid in support of the country's rural electrification goals.
Located in the rural rice milling region of Kamphong Cham, the SOMA Group's Hak Se mill project is the first to be implemented after the Cambodian government and GE signed a 2011 alternative energy development agreement to use distributed power, smart grid and other solutions to meet the country's energy challenges.
Ankur Scientific Energy Technologies Pvt. Ltd, a global technology provider of renewable energy technologies based in India, is developing the new Cambodian biomass gasification facility for project owner, Soma Energy Ltd. The rice husk will be converted into biogas, which then will be used in two GE VHP 5904 Waukesha engines to generate a total of a 1.5 megawatt (MW) of renewable electricity. Part of the power will support the rice mill's operations while surplus electricity will be sold to the local grid.
By recycling rice mill waste into biogas to support the local grid, the SOMA Group project is supporting Cambodia's rural electrification program that seeks to supply electricity to every village by 2020 and to connect 70 percent of the country's households to the grid by 2030. Only 50 percent of rural villages now have access to electricity with demands for power growing at a rate of 25 percent a year.
Supplies of the biomass feedstock are expected to remain strong. The Cambodian government has established a goal to export 1 million tons of rice in 2013 that will create about 400,000 tons of concentrated rice husks.
For more information, visit GE Energy's website.