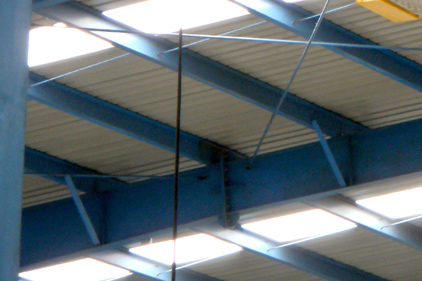 Old inefficient lighting was replaced with energy-efficient fluorescent lamps.
Recent investments of approximately $1.8 million at the Cargill Fort Morgan, CO beef processing plant have reduced the use of electricity, natural gas and associated costs. High-efficiency fluorescent lighting was installed throughout the entire facility. A new, higher-efficiency boiler also was installed. These and other energy-efficiency improvements have led to a 10 percent reduction of natural gas use over the past three years, a 5 percent decrease in electricity use and an 8 percent increase in biogas recovery.
Cargill was able to capture greater energy efficiency through a holistic approach. An example cited by Nicole Johnson-Hoffman, plant assistant vice president and general manager, is the 10 percent reduction of natural gas use that came about from the combined effort involving the installation of a new, more efficient, boiler; increased biogas recovery from the facility's water treatment operation; and implementation of an energy management system. More than 30 percent of the fuel used by the facility is from renewable sources, while over 23 percent of the total energy used (fuel and electricity) comes from renewables such as biogas.
"Our boiler efficiency increased 5 to 7 percent by purchasing and installing a new unit that is heated using biogas and natural gas fuel," explains Johnson-Hoffman. "We also reduced our cost of electricity by nearly $300,000 annually as a result of installing new lighting. The electricity savings equates to 3.4 million kilowatt hours annually, which is enough to supply power to 244 homes for a full year, based on US Department of Energy calculations. Because of these improvements, the Fort Morgan plant is now better positioned to meet the needs of our customers going forward."
Reduced utility costs as well as improved energy and production efficiency, justify spending such as this from a business standpoint. They also support Cargill's efforts to be a good citizen and improve communities where it has operations.