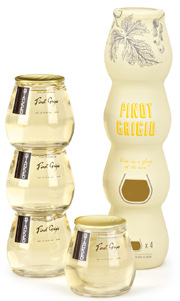 Stacked Wines' packaging allows individual, sealed servings to break apart from a stack of four plastic serving glasses. Source: Stacked Wines.
Matt Zimmer was looking for a novel, convenient way to package wine—a package that would be convenient for people to take on camping trips and provide fresh, single-servings of wine, which equate to one-fourth of a standard 750 ml bottle. His idea became the name of the company he co-founded—Stacked Wines.
Zimmer sought a stylish, portable, recyclable packaging solution for informal consumption. He teamed with two fellow MBA students at UC-Irvine to develop a product that offered quality taste, simple style and convenience.
What his team envisioned and sketched was a practical and easily stored four-pack of stemless wine glasses stacked to form the equivalent of a full bottle of wine. Each individual serving was to communicate the look and feel of a real wine glass and have the durability of plastic. A foil seal would preserve the wine's freshness within each single serving, and an overwrap would deliver brand messaging and consumer product information. The compact, stacked format would save shelf space for retailers and allow 30 percent more cases per truckload than other format options.
What Zimmer needed was a way to transform sketches and ideal into reality. "R&D/Leverage was highly recommended by an industry source," says Zimmer. "We needed expertise into how to commercialize our vision. And with so many launches in our industry, time was of the essence, since we compete against standard bottled wines and boxed wines, which are increasingly popular."
Stacked Wines was a start-up with a limited budget. "We needed to get into production fast and have the design and tooling right—the first time," says Zimmer. "R&D/Leverage proved to be a great partner to work with, and they delivered on all counts."
R&D/Leverage tweaked the initial product sketches and delivered a manufacturable design. The design was completed and approved in three weeks.
Critical to the success of the stacking design was the creation of a snap-together feature that involved precise undercuts. "It was a challenge, and we got it done—and quickly," says Jeff Beason, R&D/Leverage project engineer. A unit tool was built with a final sample delivered three months later, and a production tool was shipped two months later. Today, the special bottles are made at a converter in Simi Valley, CA, and then shipped to a copacker for filling/sealing and labeling.
The wine industry has been gravitating to new and alternative packaging solutions that work for people on the go and with limited storage space. Sometimes a consumer just wants a single glass of wine without opening an entire bottle, the rest of which gets stale. "Regional sales volumes have validated our vision," says Zimmer. "As a result, we will continue to expand distribution and, in time, become a national brand."
For more information, visit Stacked Wines or R&D/Leverage.