Einstein Noah Restaurant Group, the largest bagel shop operator in the US, needed a new, sustainable box that would make the loading of bagels and tubs of cream cheese easier and more efficient so customer orders could be processed more quickly. The company, which offers fresh-made bagels, coffee, pastries, salads and sandwiches at more than 62 locations across the country, wanted packaging designed to save money, boost efficiency, lower its carbon footprint and showcase its bagels and cream cheese.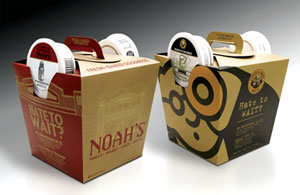 Packaging for a bagel bucket was redesigned with 100 percent renewable materials, new side inserts that allow for cream cheese to be added without reopening the package and the ability to ship flat. Source: Havi Global Solutions.
Customers visiting the group's bagel shops—comprised of Einstein Bros. Bagels, Noah's New York Bagels, Kettleman Bagel and Manhattan Bagel—used to select prefilled, closed buckets of bagels. (Prior to the sale, retail crew members opened the bucket, inserted a paper liner on top of the bagels and placed a package(s) of cream cheese on top of the paper before reclosing the boxes.)
A team from Packaging Technology Integrated Solutions, a division of Havi Global Solutions LLC, redesigned the grab-and-go bagel buckets with unique built-in, side-loading inserts made to hold two packages of cream cheese.
This allows the retail crew to drop the packages of cream cheese into the side inserts without having to reopen and reclose the bagel bucket. The design replaces two bags and also eliminates the paper liner used to separate the bagel from the cream cheese. This improves the packaging at price parity, helped speed up order delivery and enhanced operations. 
For more information:
 Tom Guerin, 630-493-7400, news@havigs.com