New Products
Technology Sourcebook
Helical-bevel gear drives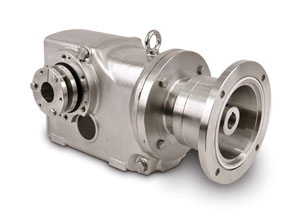 Available with output torque up to 7.7 lb.in. (870 Nm) and input power to 10hp (7.5kW), Boston Gear SS2000R right-angle, helical-bevel gear drives meet the demands of washdown applications including cheese slicers, dairy and bakery mixers, spiral heating and cooling racks, produce drying bins, meat forming and carcass processing equipment, bottling lines, conveyors and palletizers. A 316 stainless steel housing with domed crown and rounded corners provides washdown runoff in environments where high-pressure caustic solvents and cleaners are utilized; stainless steel shafts and a high-pressure washdown deflector are available. The drives feature keyless, tapered bushings; large diameter oil fill/drain holes; and synthetic lubrication.
Boston Gear; www.bostongear.com


I want to hear from you. Tell me how we can improve.