Dry Processing
Dry Processing
Dried fruit grinder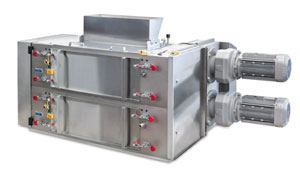 The Modern Process Equipment Dried Fruit Gran-U-Lizer grinder uses a roller-style method. The grinder is designed for use as part of a cryogenic process; the sub-zero temperatures required for processing certain fruit products enhance the performance of the grinder. It is constructed of FDA-approved materials from stainless steel to food-grade plastic components and maintains tolerances under extreme conditions.
Modern Process Equipment; 773-254-3929; www.mpechicago.com


I want to hear from you. Tell me how we can improve.