Brands in the US looking to make their PET bottles stand out on retail shelves now have access to a new foamed bottle technology. The Fi-Cell, or fine cellular, foamed PET bottle process produces monolayer bottles with smooth inner and outer wall surfaces. Previous foamed bottle technologies available in North America could only produce this kind of interior with an over-molded bottle.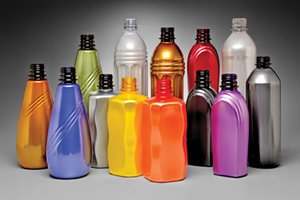 Fi-Cell is the latest addition to PTI's PET foam bottle technology platform. Source: PTI.
Plastic Technologies, Inc. (PTI) and Toyo Seikan Co. Ltd. have announced a partnership to bring the technology to the US marketplace. Fi-Cell is already being used in Japan for a line of coffee drinks. The bottles produced have a metallic and pearlized finish, an emerging color trend in packaging for 2015.
"We can achieve this look with a reduced amount of colorant," says Ron Puvak, director of global marketing and new business development for PTI. The foam bottles have a particular marketing appeal on the shelf with their vibrant colors and different shapes, he adds.
"They are eye-catching," says Puvak. "These bottles have a different look and feel." The embossing is more pronounced, and when a consumer touches one of the bottles, the sharper lines can be felt. Puvak explains these bottles are formed by injecting the preform with liquid nitrogen during the injection molding process.
The interior surface is equally important since the rough interior surfaces of other bottles cause friction with carbonated beverages. This interaction produces carbon dioxide, which turns into foam that can disrupt the filling process and result in under-filled containers. Because the Fi-Cell bottles have a smooth interior wall, Puvak says they are ideal for beverages traditionally packaged in aluminum or glass bottles.
For more information: Ron Puvak, 419-725-5613, r.puvak@plastictechnologies.com, www.plastictechnologies.com