The Mergermarket Consumer Trend Report for Q1-Q4 2016 says that on a whole the Consumer M&A market has been lackluster, with only one big megadeal compared to nine megadeals in 2015. However, this one deal was the France-based Danone SA's US $12.1 billion acquisition of the US-based WhiteWave Foods Company.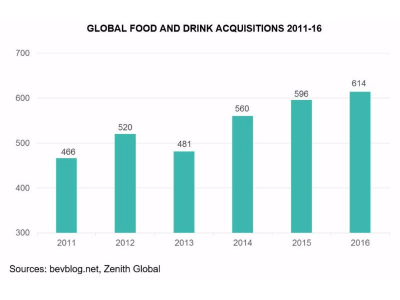 Consumer preference for craft products, a trend seen since the financial crisis, continues to increase and now is attracting larger brand-name firms. This is particularly true in the craft beer market, which has been fragmented and losing a share of alcohol consumption to wine.
"Craft beer executives expect breweries to continue to consolidate through both strategic and private equity deals as a means to grow and protect market share amid worries that the industry is headed for a down cycle," the report states.
"I think there's a storm coming for craft beer," says Kevin O'Connor, president and founder of O'Connor Brewing, a microbrewery located in Norfolk, Va.
O'Connor opened his business in 2009 and has since seen an explosion of small breweries coming online in the past couple of years. But he's weary of the breweries opening up now by people not passionate about the business and especially if they are loaded with too much debt. 
He's not the only one. Experts predict the next few years will usher in major consolidations in the craft beer industry. As many as 400 breweries are expected to be snatched up by private equity. 
"With a glut of private equity capital available, competition between sponsors has made deals more expensive in consumer categories, while strategic consolidation continues to drive the retail space," according to the Mergermarket report.
This financial climate is driving investors to pursue smaller targets, particularly family-owned businesses. In particular, companies in the better-for-you food space are increasingly of interest as the consumer demand for healthier foods continues to rise.
Numbers from the bevblog.net Food and Drink Transactions Database seem to confirm this trend of larger companies gobbling up smaller companies is already happening. The number of food and drink industry sales tracked by the database is 614, up by 18 in 2015. However, only 22 of these transactions had sums over $1 billion, which is the lowest number in four years, and the $171 billion combined value of the top 10 less is than half the $365 billion for the top 10 in 2015.
Additionally, among the biggest buyers in the food and beverage market were Anheuser-Busch InBev, Nestlé, Emmi, Constellation Brands, Frutarom and Sazerac, according to the bevblog.net food and drink transactions database.
For more information: http://www.mergermarket.com; https://acquisitions.zenithglobal.com