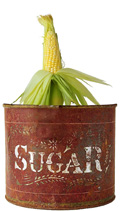 Sugar cane and sugar beet growers have filed an amended complaint in Federal court charging that corporate members of the Corn Refiners Association (CRA)—makers of high fructose corn syrup (HFCS)—are misleading the public.
Specifically, the amended complaint, filed in the US District Court in Los Angeles, alleges senior executives of agribusiness conglomerates and others "organized collectively in order to dominate and … control" the ongoing marketing campaign to rename HFCS as "corn sugar," according to the Sugar Association (SA). CRA's national advertising campaign also claims HFCS is a "natural" product equivalent to real sugar cane and beet plants, but the SA argues these claims are untrue.
According to the CRA, corn sweeteners, like sugar and honey, are natural and meet the FDA's policy for use of the term "natural." Under FDA rules, "natural" means that "nothing artificial or synthetic (including all color additives regardless of source) has been included in, or has been added to, a food that would not normally be expected to be in the food." (From 58 Fed. Reg. 2302, 2407 (Jan. 6, 1993). See also, e.g., 56 Fed. Reg. 60421, 60466-67 (Nov. 27, 1991).
Last month, a Federal judge in Los Angeles ruled that a coalition of American sugar farmers and producers had provided sufficient evidence about the HFCS advertising campaign to demonstrate "a reasonable probability of success" in proving its key claims are false, according to SA.
The lawsuit argues CRA and several of its members conspired to engage in false advertising as part of the campaign. The sugar farmers allege the defendants have spent at least $50 million in a mass media rebranding campaign that misleads the consuming public by asserting falsely that HFCS is natural and indistinguishable from the sugar extracted from sugar cane and sugar beets.
"The simple truth is that the sugar industry is attempting to use the courts to stifle free speech, but it lacks the facts to support its claims against our member companies. The court made that fact clear in its last ruling, and we continue to believe these claims against the companies should be dismissed," says Audrae Erickson, CRA president. "The more important issue, as the court has recognized, is that of health effects, and we believe the sugar industry is wrongfully alleging that high fructose corn syrup (a sugar made from corn) causes health issues that do not arise from consuming cane and beet sugar."
According to SA, HFCS manufacturers, through CRA, have also asked FDA to allow HFCS to be called "corn sugar" on food and beverage ingredient labels. The request was made last fall even though "corn sugar" has for many decades been the FDA-approved, commonly used name for dextrose, a distinct corn starch product that contains fructose.
A recent consumer survey commissioned by the sugar farmers shows changing the name of HFCS to "corn sugar" would further confuse consumers and interfere with their attempts to avoid HFCS when shopping for themselves and their families. The sugar growers want to put a stop to CRA's "false and misleading statements."
"We believe that the sugar industry's views are misleading American consumers," Erickson says. "The CRA will continue its work to educate consumers about high fructose corn syrup and will vigorously oppose the sugar industry's attempt to stifle public discussion of this important health issue."