Americans who have mail-ordered Gevalia coffee for 30 years may do a double-take this month when the Swedish brand debuts in retail stores, though they certainly won't miss the bag's bright yellow color and evocative graphics.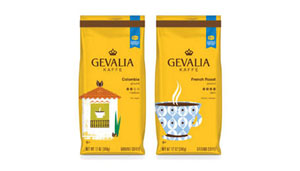 Scandinavia meets South America in a new package for Gevalia coffee, with a rendition of the Swedish flag in the upper right and a Colombian clay house in the graphic. Multi-culturalism gets its due on bags of Gevalia French roast, with a cup design meant to evoke France and a bean-shaped flag of Sweden. Source Kraft Foods Inc.
Less than a year after its retail distribution deal with Starbucks ended, Gevalia parent company Kraft Foods is joining its erstwhile partner on the increasingly crowded premium coffee shelf. Upscale retail is new terrain for Gevalia, which was first roasted in Gävle, Sweden in 1853: The brand is solidly middle of the road in stores throughout Europe. The premium positioning is a North American invention, where a free coffee maker has been included in first-time mail orders since 1983.
Kraft commissioned Landor Associates International Inc., its long-time package designer, to come up with a look that would enable Gevalia to go toe to toe with Peet's, Seattle's Best and Starbucks. "The coffee aisle is awfully brown, with some pop of white from Starbucks," says Dale Doyle, creative director at Landor's Cincinnati office, and designers settled on "yellow gold" as the predominant color scheme. Sweden's national flag features a yellow cross on a pale blue field, and while the Gevalia bags are not quite as vibrant, Doyle says the color should help them stand out.
"Sweden is a country of contrasts," observes Doyle, and the new packages were designed to evoke modern and traditional elements of both Sweden and the source countries of the coffee beans. A coffee bean featuring a cross rests on a blue ribbon that runs down the upper right corner of the bag, suggesting the flag of Sweden, while graphics evoking folk art are displayed on most of the 10 flavor varieties. For example, French folk traditions are saluted on the graphic for French roast coffee; Colombian coffee comes in a bag depicting a clay house, reflective of residences in Colombia.
"Kraft is well known for researching its brands thoroughly," and Gevalia's new look was vetted for several months, along with eight or nine other graphic looks, Doyle adds. "This one really floated to the top."
Roasting, grinding and packaging of Gevalia will move from Sweden to Kraft's North American roasting plants. The company, which includes Maxwell House and other coffee brands in its portfolio, has roasting operations in Jacksonville, FL; San Leandro, CA; and Oakville, Ont. 

For more information:
Dale Doyle, Landor Associates International Inc.,
513-419-2300