When a brand name refers to one of the Seven Wonders of the Ancient World, two assumptions could be made:
• The package will carry a facsimile of the Wonder.
• No licensing fees will be required for its use.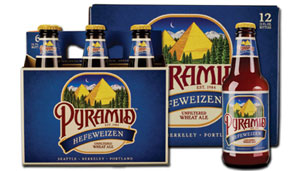 Pyramid Breweries' year-round beers, including the popular Apricot Ale and Hefeweizen styles, feature a new graphic treatment that returns the pyramid logo to prominence. Source: North American Breweries.

In an unfortunate misstep, Pyramid Breweries shattered the first assumption a few years ago, but new ownership is bringing back the wonder. Keg-pull handles and labels on Pyramid's year-round beer bottles feature graphics with pyramids front and center and Mount Rainier in the background, restoring a look almost as old as the brewery itself.
Founded in Seattle in 1984, Pyramid's early growth in the Pacific Northwest was followed more recently with years of struggle. The company was sold in 2008 to a Vermont-based brewery, which introduced label graphics with "an architectural element, in the shape of a pyramid," Brand Manager Ryan Daley explains. "That was a big miff." Now, Pyramid is part of the portfolio of North American Breweries (NAB), a Rochester, NY entity that includes Genesee Brewing, and the pyramids are back.
Pyramid remains firmly in the craft-brew column, and a new brew master in the flagship Seattle brew pub is creating new recipes and small batches to gauge styles with appeal to the drinking public, says Daley, who has managed Pyramid from NAB's Buffalo, NY office since this spring. The craft category continues to enjoy double-digit growth in a shrinking overall beer market. A unit of KPS Capital Partners, New York, NAB straddles the craft and mainstream markets. The Brewers Association ranks NAB as the US's seventh largest brewery, a notch above Boston Beer Co., brewer of Samuel Adams.