Enterprise resource planning (ERP) has been a proven method for manufacturers to run their businesses effectively. But, wholesalers and distributors can benefit from an ERP system as well. According to a recent study from the Aberdeen Group, entitled ERP in Wholesale and Distribution, 83 percent of the interviewed wholesalers and distributors are already using an ERP system to track the logistics of their businesses. The actionable data they obtain from ERP lets them make better business decisions while cutting costs.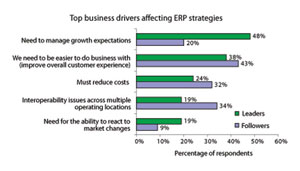 The top business drivers affecting ERP strategies can vary significantly between leaders and followers. Source: Aberdeen Group
Leaders, the top 35 percent of wholesaler/distributor aggregate performance scorers/respondents, have used ERP to achieve the following benefits:
• 17 percent reduction in operating costs
• 96 percent inventory accuracy
• 95 percent complete and on-time shipments
• 22 percent reduction in cycle time. 
Followers, the remaining 65 percent of businesses using ERP systems, have seen an average of 4 percent reduction in operating costs, 85 percent inventory accuracy, 85 percent complete and on-time shipments and 4 percent reduction in cycle time—clearly demonstrating a need for improvement compared to the leaders' scores. 
Leaders and followers, however, differ in the top drivers that affect their performance (see graph). For instance, leaders are more likely to be dealing with growth expectations they do not currently have the resources to support. ERP helps them make the most of their available resources. <br><br>
On the other hand, followers are more likely either not to have ERP or have had issues with their ERP implementation. These companies have more trouble than leaders in tracking products over multiple operating locations. Both groups, leaders and followers, need to be able to grow and keep track of multiple operating locations while keeping costs low.
In response to these business pressures, wholesalers and distributors are creating a series of strategic actions to improve their organizations' performance. The study found there was little difference between the leaders and all others in picking the strategies. What really matters is how successful these organizations are in carrying out these strategies. Both groups are standardizing business practices, streamlining and accelerating business processes and providing visibility into business processes across functions and departments. As a result, they are recognizing the need for modernizing technology, infrastructure and applications. The study makes several recommendations to both followers and leaders, based on their current and future needs. Followers should take the following steps to a successful ERP strategy:
• Provide decision-makers with automatic notifications. Being alerted immediately of certain conditions and events allows decision-makers to be more proactive and correct their course more efficiently.
• Continuously improve. Whether it is updating business processes or optimizing ERP solutions, continuous improvement teams can use these tools to get ahead of peers and catch up with competitors.
• Plan and forecast demand. Being able to plan for demand is particularly important in wholesale and distribution. The difference between accurate and inaccurate forecasts can lead to missed opportunities and/or increased costs. Leaders are almost 1.5 times as likely as followers to have this capability.
The study makes the following recommendations to improving an ERP strategy:
• Enable mobile access to ERP. While leaders are differentiating themselves from followers in providing access to ERP from mobile devices, only 29 percent have this capability. By giving access to decision-makers in this always-on business world, successful organizations are increasing their ability to make agile decisions, combat adverse events and grab hold of opportunities in tightening decision windows.<br><br>
• Measure returns on investment. Measuring ROI lets leaders get the most out of their ERP solutions by allowing them to optimize systems and gain further efficiencies. Less than half of leaders currently measure the quantifiable benefits gained from ERP implementations.<br><br>
• Look to wholesale- and distribution-specific ERP modules and extensions. Modules such as distribution requirements planning, transportation management and warehouse management help wholesalers/distributors get further control of the logistics of their businesses. <br><br>
By combining these steps with a well-thought-out ERP strategy, wholesalers and distributors can continue to improve and grow into more successful organizations. 
For more information on this study, visit www.aberdeen.com.