An obsession with safety in manufacturing has resulted in a food supply that arguably is the best in the world and certainly much improved from the not-too-distant past. In food and beverage companies, systems and technology to improve safety may be the only expenditures where ROI seldom if ever is discussed.
The same cannot be said about quality. A quality product necessarily is a safe product, but the reverse cannot be said: Just because chemical, biological or other contaminants are absent doesn't mean it is a quality product. Yet the cost of poor quality likely is greater than the cost of compromised safety.
The worst-case outcome of a safety breach is a public health event that sickens or kills people, triggering a recall and damaging confidence in a brand or a manufacturer. By their nature, these are isolated events and anomalies; an organization with chronic food safety problems is unlikely to stay in business for long. Quality issues, on the other hand, can persist for years, resulting in uncalculated losses in scrap, rework and buyers who abandon the product because it fails to deliver the same taste, texture or other characteristics consistently.
Companies certainly recognize this, and quality is a synonym for consistency in manufacturing, but the complexity of controlling quality often forces manufacturers to rely on proxies. "OEE has its place," allows Eddy Azad, CEO of Parsec Automation Corp., Anaheim, CA, and the metric penalizes performance that generates waste. But OEE typically is measured in packaging, after value has been added to raw materials and quality-compromising events have already occurred. Cost of poor quality (CPQ) is a better metric, and "CPQ skyrockets once a product leaves the plant," Azad points out.
Price points may signal premium products, but they are a poor guide to quality. Personal preference is a factor in premium offerings, and unlike quality, preference can't be quantified, observes Craig Wilson, food safety director for Costco Wholesale Inc.  "You could love a product and think it's of great quality, while I consider its quality to be poor," he says. But that isn't pertinent to quality manufacturing, which relies on specifications and whether those specifications are met. "A really good soft benefit of a quality focus is that food safety also improves," says Wilson.
Substantial deviations from a standard product is permitted in a quality product, while safety is a black or white matter, according to John Surak, a former food company executive and a quality management expert. He cites sausages to illustrate his point: Natural casing is used for Johnsonville brats, resulting in sausages with variations in thickness that give them "a handmade look," he says. Oscar Mayer hot dogs, on the other hand, exhibit remarkable consistency. A customer may prefer one sausage over the other, but both products can lay claim to quality, provided they meet "the requirements of what the customer wants," says Surak.
"If you have a food safety problem, you must eliminate it before you put that product into the market," he continues. The point of release is subject to change, however. For example, a ground beef batch could be found to have high bacterial loads or other indicators of a potential safety issue. Distributing the meat as a raw product would be both a safety and quality issue; redirecting it for further processing with a kill step would eliminate the safety hazard and allow the beef to qualify as a quality component.

Internal bar-setting
Systems on the floor and in the lab can straddle the safety and quality worlds. Federal guidelines set an acceptable limit of 7mm  (one-quarter inch) for metal objects before a food product is considered contaminated, according to Robert Rogers, senior advisor-food safety and regulations at Mettler-Toledo Inc., Tampa, FL. "A 1mm limit might be a better target," he suggests, and that requires a more finely tuned metal detector and more rigorous quality management. The higher threshold is addressed with a food safety program, and "the two programs should not be looked at as one, big program," Rogers says.
Checkweighers fabricated by companies such as Mettler-Toledo can be viewed as quality "notification devices," he says. Metal detectors, on the other hand, can straddle both quality and safety. Staffers from multiple areas are needed to execute the quality program, and those programs are being expanded to include incoming materials, says Rogers. It is more cost-effective to flag flour contaminated with metal before it enters the production cycle than at the end of the line, when value has been added and the contaminants pose a safety hazard.
In recent years, Mettler-Toledo began offering a software system to collect data from metal detectors and other floor devices and interfacing it with lab-based equipment, another area served by the company. With passage of the Food Safety Modernization Act (FSMA) and higher food safety standards under the Global Food Safety Initiative (GFSI), interest in the data management system is increasing, reports Rogers. The software is useful for documenting events and providing a safety framework, but unless an organization approaches quality as a continuous improvement challenge, it does not have a quality program.<br><br>
FSMA caught the attention of suppliers of quality management systems designed for other industries, particularly highly regulated businesses such as financial services and medical device manufacturers. Among them is Farmingdale, NY-based EtQ Inc., shorthand for "excellence through quality." The firm developed a web-based quality management system in the late '90s for manufacturers of medical devices.
The system evolved into a "risk-based approach to quality management," according to Tim Lozier, corporate development manager. "Hazard analysis is basically risk analysis, and the food industry has been using HACCP to assess risk in production processes for years," he points out. Quality management greatly expands the factors that need to be monitored, however, and the sheer volume of events that may require corrective and preventive actions can overwhelm personnel. By assigning severity and frequency scores, the events can be prioritized and more effectively managed.
"Corrective actions can be a catchall for every type of event," Lozier says. "That is a slippery slope you have to avoid." Applying a risk matrix helps personnel focus on the most serious quality and safety issues."

Quality can be a compliance issue, suggests Keri Dawson of MetricStream Inc., Palo Alto, CA, and upper management must be apprised of events on the production floor. "I look at FSMA as the tipping point in moving food companies from manual quality management systems to an integrated, harmonized approach," says the vice president-compliance online advisory services. Like Lozier, Dawson believes food companies are approaching "corrective action overload" because of the "siloed expectations" of overlapping systems for HACCP, quality management and regulatory compliance.
MetricStream was created a decade ago in response to the Sarbanes-Oxley Act, which imposed much stricter financial accounting requirements on corporations. MetricStream's ERP-based software is a governance risk and compliance (GRC) solution, Dawson explains, and the same financial accounting that Sarbanes-Oxley requires is applicable to quality management.

Three-legged stool
An effective management system for food safety includes three elements, suggests Jeff Cawley, vice president-market development at Portland, OR's Northwest Analytical Inc.:  a quality management system to track "the procedural side of manufacturing," a quality information system to gather and analyze data, and a traceability system. All three elements are needed to satisfy safety standards under GFSI or the ISO 22000 food safety standard, but standalone automation solutions are ill-equipped to address all three. The gaps often appear in quality initiatives.
To illustrate, CAPA (corrective actions, preventive actions) is rigorously applied in pharmaceutical manufacturing. Engrained in software devised for those businesses are alerts to ensure the proper individuals are notified when events occur, and their responses are noted. "It gives visibility to the problem, and there has to be a sign-off by the appropriate levels of the organization," says Cawley. But a quality information system also includes other functionalities, such as statistical process control (SPC). If the original system did not include SPC, software vendors will add it if necessary. Whether the capability is functional or merely cobbled on is questionable, however.
Marketing hyperbole also is a factor, allows Parsec's Azad, and vendors are prone to overpromise on their systems' capabilities. If HACCP management is a hot button, vendors of a traceability solution are tempted to promote their software's HACCP capabilities. Another problem is implementation of software solutions that require in-house expertise that is lacking, according to Keith Diepstra, a quality engineer with a baking company.
Effective use of SPC requires an understanding of run rules to distinguish between random changes within a stable process and trends that require adjustments. Unfortunately, supervisory personnel often don't understand the subtleties of SPC, resulting in overadjustments by operators or no adjustments when the process is drifting out of control, says Diepstra. Instead of a tool for quality and throughput improvement, OEE reports become historical records, he says.
"Traditional quality engineering is about reducing variation," Diepstra continues. However, variations will persist unless automation tools are combined with methodologies such as gate review to ensure that root-cause analysis is performed to resolve recurring problems. "Managers must understand the quality improvement process before they apply the tools, and getting that understanding from a vendor is not the best approach," he says.
Compared to heavy industry, food manufacturers enjoy fat margins, and that has encouraged a lax approach to quality improvement, Diepstra adds. Instead of organizing lean teams and turning loose Six Sigma black belts, he suggests food companies recruit quality and reliability specialists who can apply a disciplined approach to continuous improvement. Layoffs in automotive and other industries have created a ready pool of quality specialists.
"Quality often is used generically to mean consistency," reflects Steve Wilson, chief quality officer in the US Department of Commerce's Seafood Inspection Program. "A better definition is meeting the expected and unexpected desires of buyers, and those go beyond food safety." As with dark spots in pork, color in scallops and other seafood is usually a quality indicator. A grey scallop may be as safe as an orange scallop, "but if the orange color isn't there, neither is the quality," he says.
Safety lapses typically occur when processors focus too much on productivity and give quality short shrift, Wilson suggests. OEE and lean ideally address both productivity and quality, but maintaining a balance between the two can be a challenge. The cost of rework, scrap and quality inspections is more difficult to calculate than machine throughput. "We need to worry less about OEE and lean and more about the tools to improve processes and reduce the cost of quality and safety," says Wilson.
"There really isn't a fine line between food safety and food quality," insists LeAnn Chuboff, senior technical director of the Safe Quality Food Institute, which oversees the SQF certification program endorsed by GFSI. A risk matrix can be applied to both, with the consequences and frequency of problems determining the critical threats to safety and quality. Food safety in manufacturing is quantified in SQF's Level 2 certification, and food companies that can demonstrate an effective quality program can be certified as Level 3. To date, more than half—1,180—of the SQF-certified food plants have attained Level 3. The 2,187 US production facilities certified by SQF are the most under any of the GFSI standards.
To the general public, quality has a subjective ring. In manufacturing, it can be quantified and objectively measured. Quality perceptions will vary depending on the target audience and the manufacturer's objectives, but the systems and methodologies used to ensure safety can also be applied to quality. v<br><br>

For more information:
Tim Lozier, EtQ Inc., 516-293-0949, tlozier@etq.com
Keri Dawson, MetricStream Inc., 650-620-2900
Robert Rogers, Mettler-Toledo Inc., 813-342-9138, robert.rogers@mt.com
Jeffrey Cawley, Northwest Analytical Inc., 503-224-7727, jcawley@nwasoft.com
Eddy Azad, Parsec Automation Corp., 714-996-5302, eazad@parsec-corp.com 
John Surak, Surak & Associates, 864-506-2190, jgsurak@yahoo.com
LeAnn Chuboff, SQF Institute, 202-220-0635
SIDEBAR
Dairy sets SQF's quality standard
Fluid milk may be the most standardized food product, and the Pasteurized Milk Ordinance helps make food safety a condition of doing business. Product quality requires continuous improvement, however, and the programs in place at Dairy Farmers of America's Fort Morgan, CO plant helped it win the 2011 manufacturer of the year designation from the Safe Quality Food Institute, which manages the SQF standard under the Global Food Safety Initiative (GFSI).
SQF offers food manufacturers two certification options: Level 2, which meets GFSI's safety standards, and Level 3, which pushes processors to take a corrective and preventive approach to quality. The Fort Morgan dairy underwent its first SQF audit last summer, earning Level 3 certification with the highest audit score in the nation.
Originally built in 1998, the dairy added a spray dryer in 2002 and underwent a major expansion three years ago, boosting capacity to 3.6 million lbs. of raw milk a day. Whole and condensed milk are among the finished goods, but most of production is nonfat dry milk. Customers are global, and the staff understands that some buyers like candy makers don't have a kill step, making product contamination a serious concern, according to Tom Cotter, plant manager. "Some of the standards in other countries are so far beyond what we do," he adds, and meeting those expectations helps raise the production team's performance. "It's product quality, it's package quality, it's even pallet quality."
Quality assurance personnel were joined by maintenance and dryer-operator personnel in accepting the quality award at SQF's annual conference in November. By involving front-line personnel, Cotter hoped to invigorate continuous improvement efforts by exposing personnel to the quality and safety programs at other top-tier facilities.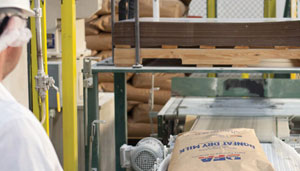 Purity requirements in the international milk-powder market require extremely high safety protocols. DFA's Fort Morgan dairy meets them with a quality program recognized as one of the best in North America. Source: Dairy Farmers of America.