Food Safety
TECH FLASH
Mysterious outbreak hits six states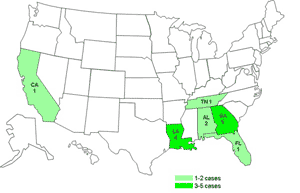 The number of persons infected with E. coli O145 were identified in each state is as follows: Alabama (2), California (1), Florida (1), Georgia (5), Louisiana (4), and Tennessee (1). Information was reported as of June 8, 2012. Source: CDC.
On Thursday, June 7, ABC-TV evening news broke the story of an E. coli O145 outbreak affecting California, Tennessee, Louisiana, Georgia, Alabama and Florida. One death, an infant aged 21 months, was reported in New Orleans, and five cases were reported in the Atlanta, GA area. Health officials believe the cases are linked to the same source, although that is still unknown.
On June 10, the Centers for Disease Control (CDC) issued an update on the locations and numbers of infections, though no cause has yet been found. A total of 14 persons infected with the outbreak strain of STEC O145 infection were identified in six states. The number of ill persons identified in each state is as follows: Alabama (2), California (1), Florida (1), Georgia (5), Louisiana (4) and Tennessee (1). Three ill persons were hospitalized, and one death was reported in Louisiana, according to CDC.
Based on interviews conducted to date, a source for these infections has not been identified, according to CDC. Dates for patients' onset of illness range from April 15 to May 12, 2012. It has been about four weeks since the last illness onset among the reported cases. Although this indicates that this outbreak could be over, CDC continues to work with state public health officials to identify additional cases and the source of the STEC O145 infections.
The last major E. coli O145 outbreak in the US occurred in the spring of 2010, and the number of cases were 26 cases confirmed and seven probable cases traced to shredded romaine lettuce from a single processing facility. States affected in this outbreak included Michigan, New York, Ohio, Pennsylvania and Tennessee.
Most recently, an E. coli O26 outbreak was reported by CDC as affecting raw clover sprouts served at Jimmy John's restaurants. The outbreak affected 29 people in 11 states, and hospitalized seven of them, but there were no deaths.
Coincidentally, the first week of June marked the beginning of the USDA's FSIS zero-tolerance policy on six additional E. coli serotypes beyond O157:H7. Now classed as "adulterants" by the USDA, E. coli serogroups O26, O45, O103, O111, O121 and O145 must be tested for presence in all products that USDA covers.
"These strains of E. coli are an emerging threat to human health and the steps we are taking are entirely focused on preventing Americans from suffering foodborne illnesses," says Agriculture Secretary Tom Vilsack. "We cannot ignore the evidence that these pathogens are a threat in our nation's food supply."


I want to hear from you. Tell me how we can improve.