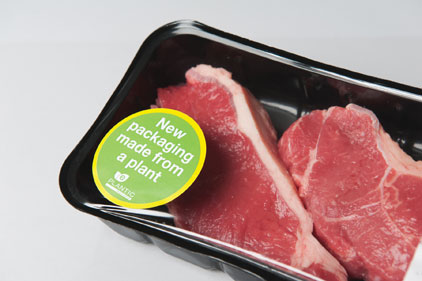 High-barrier film made from primarily renewable  polymers made its American debut in April. High-amylose corn starch made from non-GMO corn is the polymer's basis. Source: Plantic Technologies Ltd. 
Functionality usually takes a back seat or rides shotgun with environmentally friendly packaging materials, but that's not the case with a new polymer film from the Australian firm Plantic Technologies Ltd. The company's eco Plastic roll stock is a high-barrier film that actually outperforms EVOH in terms of oxygen transmission, according to Tom Black, who heads Plantic's US operations.
"People want to get behind the environment, as long as it doesn't cost extra," observes Black, president of Plantic the Americas, Boston. "With eco Plastic, reducing shrink by extending shelf life is the key, and the environment is an, 'Oh, by the way' benefit."
Like PLA, the polymer is based on corn, but a much more straightforward conversion of high-amylose corn starch enables eco Plastic to sidestep the brittleness and oxygen permeability of PLA. In fact, oxygen transmission as low as 0.07 percent has been measured, and the previously unsurpassed standard of 0.1 percent is consistently breached, says Black. Shelf life extensions to 28 days have been documented for products that get 20 days with conventional barrier films.
An Australian grocer debuted the material last year, and Chatsworth, CA-based Excelline Food Products LLC has the first high-visibility US application. Excelline, which manufactures refrigerated and frozen Mexican hand-held products such as enchiladas and taquitos, recently converted three refrigerated products to the high-barrier material, including steak flautas, fish tacos and chicken tacos. Only the bottom forming web of the packages use eco Plastic; conventional EVOH is used for the top nonforming web. Plantic intends to introduce lidding film to replace the EVOH later this year.
Both PLA and ethanol have been criticized for diverting corn from food use. "If you're going to make that argument, don't use cardboard," Black says. "A range of industrial products are based on corn starch," including adhesives used to seal boxes. Plantic's raw materials are derived from non-GMO corn grown and harvested exclusively for the firm by Corn Products International. Byproducts from the process include animal feed and oil.
For more information: