New Products
Technology Sourcebook
Distributed motion controller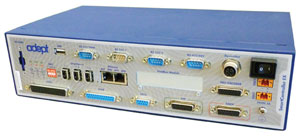 The Adept SmartController EX lead-free, high-performance distributed motion controller is used with Adept robots. Featuring Gigabit Ethernet, a high-speed processor and Adept eV+ software, the controller increases robot cycle speeds. It comes with an optional T20 pendant handheld device that provides a user interface in an ergonomic package.
Adept Technology, Inc.; 925-245-3400; www.adept.com


I want to hear from you. Tell me how we can improve.