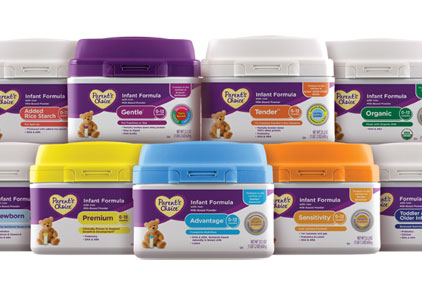 Wal-Mart is among the early users of Perrigo's SmarTub container for its store-brand infant formula. Source: Perrigo Co.
Most manufacturers are involved with packages. Perrigo Nutritionals, on the other hand, is firmly committed to its new infant formula container.
A division of Allergan, MI-based Perrigo Co., Perrigo Nutritionals dominates the private-label segment of the $3.9 billion infant formula market. Its store brands are carried by Wal-Mart, Kroger, Walgreen's and many other retailers. Three years ago, "the marketing team saw a shift away from round canisters" to oval and rectangular designs, according to Sean Walsh, vice president of operations. Not content to simply modify an existing packaging line, Perrigo engineers began designing a $29 million line, which was dedicated in January in Georgia, VT, 20 miles north of Burlington.
Promoted as the SmarTub, the patent-pending container is designed to address both convenience and security issues. An easy-pull foil liner provides tamper-evident assurance. A scoop leveler inside the container adds precision to contents metering; a longer scoop handle and storage area improve hygiene by minimizing human contact with the ingredients. Given formula's price point, shrinkage at retail is a concern, so the design also incorporates discreet space to accommodate an EAS tag.
Engineering Director George Salg led a team of about a dozen engineers in designing and integrating the new line, which extends "from depalletizing to palletizing" and includes globally sourced equipment from multiple vendors. "It's a highly automated, extremely complex line with many pieces of equipment that are one of a kind," he says. "The level of automation and quality are state of the art."
One of the most distinctive features of the line is the real-time leak detection system. A vacuum test is applied at line speed to all containers and can detect "any leak down to the micron level," Salg states. A combination of random sampling and "rudimentary testing" at run speeds was the previous standard.
Quick-release, tool-less components for quick changeovers and robotics are design elements. Extensive use was made of vision systems, and some "unique material handling equipment" is part of the design, he adds. A best-in-class approach was taken to machinery sourcing.
Because of allergen concerns, production is limited to Perrigo's nine milk-based formulations. Two products using soy will be packaged either on other Vermont lines or in Perrigo's Ohio facility. The new line raises the firm's infant formula manufacturing capacity to 65 million lbs. of product per year.
Milk-based powdered formulas dominate the infant nutrition market, according to Walsh. However, declining US birth rates are increasing competitive pressures, and all retail sales are adversely affected when any infant formula is recalled. Consumer acceptance of store-brand formulas fell 5.4 percent in 2012, according to Perrigo's annual report, in the wake of two contamination events, neither involving Perrigo. In 2010, Abbott Laboratories recalled almost 5 million containers of Similac after beetle body parts were found in sealed cans. Two infants who may have consumed Enfamil died in 2011 from Cronobacter infection. Though FDA concluded no evidence linked the poisoning to manufacturing, several retailers pulled the products from shelves.