New Products
Technology Sourcebook
Full-cone nozzles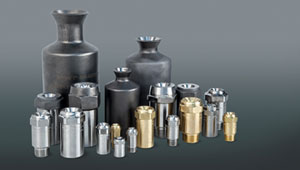 Designed for applications with flow rates up to 705gpm (2,670 lpm) and 80psi (6 bar), Spraying Systems MFP FullJet full-cone nozzles are now available in 1 1/2-, 2-, 2 1/2- and 3-in. 316 stainless steel models. They allow passage of larger particles to reduce clogging and produce a true full-cone spray pattern. Manufactured for any application affected by clogging problems due to recirculated liquids or debris, they can be used for washdowns, process and gas cooling, flue gas desulfurization, food processing, dust suppression, fire protection, foam control and wastewater aeration.
Spraying Systems Co.; 630-665-5000; www.spray.com


I want to hear from you. Tell me how we can improve.