Goya Foods, Secaucus, NJ, the largest Hispanic-owned food company in the US, is converting the packaging for its marinade product line from glass to polyethylene terephthalate (PET) bottles. The company selected Amcor Rigid Plastics to redesign its 355ml and 705ml glass bottles. The PET bottles feature a newly designed shrink wrap label.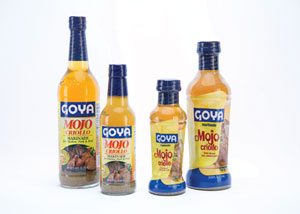 Goya Foods' marinade product line is the first to change from glass to a PET bottle made with Amcor's new Origami hot fill technology. The switch improves bottle performance, cost and sustainability. Source: Amcor.
The switch to a PET bottle delivers significant performance and cost advantages including portability, reduced breakage and light weighting, along with sustainability benefits such as recyclability, reduced transportation costs and a significantly reduced carbon footprint. The new 24.5-oz. PET not only holds more product than the 705ml glass bottle, its production is said to generate 61.4 percent less greenhouse gases compared to glass, while allowing 52 percent more product to be shipped per truckload.
The two new PET bottles for Goya are the first to feature Amcor's new Origami hot fill technology, which incorporates six flat panels that counteract vacuum that occurs in hot filled containers. The vacuum panels are designed to collapse, compensating for shrinkage during cooling, to maintain structural strength and integrity. The bottles are designed for both ambient fill (up to 140°F) and hot fill (up to 185°F) applications. They have a 38mm finish, and the process seamlessly integrates into existing glass filling lines with minimal adjustment, according to Joseph Perez, senior vice president of Goya Foods.
Goya also plans to replace glass packaging in an existing 12-oz. juice beverage line with a hot fill PET bottle this summer.
For more information:
 Wendy Zhou, Amcor Rigid Plastics, 734-302-2263, wendy.zhou@amcor.com