Low-acid, high-moisture, shelf-stable, ready-to-eat prepackaged foods are conventionally treated with pressurized steam or high-temperature water at 120°C or higher to inactivate Clostridium botulism spores, stemming their germination and the potential production of a deadly toxin inside the sealed container.
Steam or high-temperature water processes take 30 to 120 minutes to treat the product, depending on the size of the container. However, the prolonged exposure time required with conventional retorting methods causes thermal degradation resulting in a poor-quality product, says Dr. Juming Tang, a professor and distinguished chair of food engineering in the Department of Biological System Engineering at Washington State University (WSU).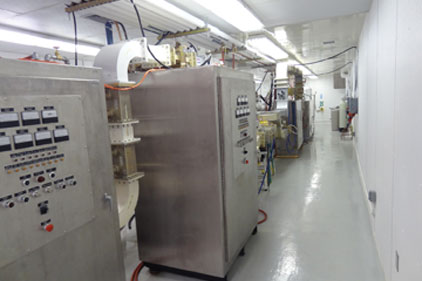 Microwave sterilization equipment developed at Washington State University kills pathogens in prepackaged food in as little as one-eighth the time required with conventional retorting methods. Source: Washington State University.
For the past 40 years, major US food companies and the US Army have evaluated the use of microwave energy as an alternative method to neutralizing potentially harmful microorganisms in shelf-stable, prepackaged foods.
Dr. Tang has spent 18 years researching microwave technologies, after joining Washington State University in 1995 where, as a faculty member, he initiated a research program on novel food processing technologies. Tang received an undergraduate degree in mechanical engineering at Central-South University of Technology in Hunan, China, before studying in Canada, where he earned a master's degree at the University of Guelph and a PhD in agricultural engineering at the University of Saskatchewan.
Dr. Tang's work gravitated to microwave assisted thermal sterilization (MATS) processes. His laboratory successfully built a 5 kW 915 MHz single-mode microwave sterilization system in 1997. Work on MATS process and equipment has been ongoing at WSU ever since, supported by a consortium that includes WSU, US Department of Defense and several major US food companies. Adoption of microwave sterilization technology for low-acid, shelf-stable foods in the US depends on the ability of commercial systems to treat at throughputs from 50 to 250 meals per minute, and acceptance from the FDA and USDA FSIS.
FE: What are the advantages of microwave sterilization technology?
Tang: The unit can reduce the heating time of packaged foods up to 80 percent of the time required for conventional methods. The reduction in processing time increases retention of nutrients in thermally processed foods, resulting in more fresh-like taste and texture and improving the visual appeal of the food.
The use of post-packaging processing could benefit manufacturers by reducing spoilage, eliminating refrigeration costs and providing safer foods for consumers. Microwave sterilization technology offers opportunities for food companies seeking to develop new food products that have not been possible due to the effects of severe heat in conventional retorting.
Microwave sterilization technology is unique in that it can be applied to both solid and liquid foods as well as complete meals sealed in multi-compartment trays. Systems can be designed to work in batch or continuous mode and can achieve an equal kill of any selected food pathogens, as compared to conventional pressurized hot water, by adjusting process time and microwave power level. Microwave sterilization can sterilize contaminants more quickly and treat a wider range of microorganisms. It is a thermal process that delivers thermal energy to foods under pressure to achieve inactivation of bacteria harmful to humans.
FE: How economical is microwave sterilization processing?
Tang: Conventional industrial heating methods using steam or electric heaters may be more efficient compared to microwave heating in terms of converting the energy into a useful heat. It is difficult to estimate the total economical value of microwave sterilization technology when considering the complete chain from food product manufacturing, storage to distribution.
However, the ability to heat solid, semi-solid and meal combination food products, provide rapid heating and preservation of sensory and nutritional quality and operate at high throughputs, as well as the possibility to incorporate microwave processing equipment into existing processing lines, add value to microwave sterilization.
FE: What is the state of this equipment's development?
Tang: At WSU, we have been focused on developing a scalable 915 MHz microwave sterilization system that can provide predictable and stable heating patterns in packaged foods. Other aims include developing effective means to assess heating patterns; developing computer simulation models to support system and process design; developing protocols for FDA and USDA FSIS acceptance; and supporting technical transfer for commercialization.
For the system design, we combined 915 MHz microwave applicators with thin-layer circulation water to process packaged foods in four interconnected pressurized chambers. C. sporogenes PA 3769 spores were used as the surrogate for C. botulinum type A and B spores for process validations.
Proper phase control between two opposing entry ports for each chamber enabled control of heating patterns in food packages. A chemical marker was used to visualize the heating pattern and locate cold spots in the food package. Mobile temperature sensors measured product temperature at the cold spot, for process development. The microwave system shortened the time needed to ensure food safety to just five to eight minutes at 121°C for foods in single-meal packages.
The pilot scale 915 MHz microwave sterilization systems for prepackaged foods are currently available at Washington State University, AmeriQual (IN) and Wernicke (OH). Food Chain Safety (WA) is the supplier of pilot scale MATS  system and is in the process of designing continuous industrial production systems.
FE: Why create a 915 MHz system?
Tang: Two frequency bands are allocated in the US by the Federal Communications Commission [FCC] for industrial, scientific and medical applications. The 915 MHz band is used for industrial heating only; the 2,450 MHz band is used both in the industry and in microwave ovens used in the home. WSU developed a 40 kW 915 MHz unit.
For industrial processing of prepackaged foods, we always prefer 915 MHz because of its deeper penetration depth compared to 2,450 MHz. There is no off-the-shelf equipment at other microwave frequencies at the power levels suited for the food industry.
FE: What is the state of acceptance and industrial applications in the USA?
Tang: The first FDA acceptance of the WSU microwave process for prepackaged foods was granted in October 2009 for a homogeneous food, mashed potato in trays. Since then, we have continued research and development work to expand the applications of the technology. In December 2010, we gained acceptance for a non-homogeneous food, salmon fillet in sauce processed in pouches. In March 2012, we received a non-objection letter from USDA FSIS regarding a validated process for chicken dumplings in pouches. The WSU Consortium received the R&D Award from the Institute of Food Technologists in 2010 for first FDA acceptance of MATS process.
In 2010, Washington State University licensed the right of MATS commercialization to Food Chain Safety, a startup company in the Seattle area, and formed Consortium II in June 2010 to support technology transfer.
In 2012, Food Chain Safety installed pilot-scale systems for two producers of rations for the military—AmeriQual and Wornick Food. Our team has helped validate the AmeriQual unit and is helping Wornick validate its unit. Food Chain Safety is designing industrial production systems, with a capacity of up to 150 meals per minute, for AmeriQual for delivery in 2013.  
FE: What is the shelf life of microwave-processed products?
 Tang: The shelf life expectancy of microwave-sterilized products prepackaged in plastic containers or pouches is one to three years. With innovative plastic technologies coming to the market, the new generations of plastics may increase the expected shelf life even longer.