New Products
Technology Sourcebook
Wire mesh conveyor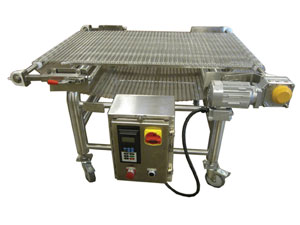 The Walker W.O.W. sanitary wire mesh conveyor is completely tool-less; the pulleys, motors, drives, chutes, bearings and belts can be removed by hand. Designed for food products where ingredients need to be reclaimed or allowed to pass through the belt, the conveyor is suitable for products that require cooling during the manufacturing process. Areas where food particles can collect along the conveyor are reduced and eliminated.
Walker Custom Sheet Metal; 616-735-3770; www.walkercustomsheetmetal.com


I want to hear from you. Tell me how we can improve.