Plastic Technologies (PTI) has developed a new app that helps users calculate the recyclability of their polyethylene terephthalate (PET) bottles, containers and/or packages. The PET Packaging Recycling Calculator app, free for iPhone and Android devices, is designed to help consumers determine how compatible a specific package is with today's recycling systems and its impact on recycled PET production.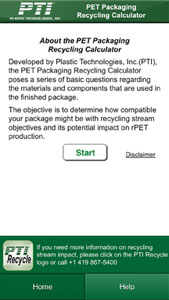 A free app from PTI lets users calculate the recyclability of their PET containers and the impact innovative PET packages containing new resins, multilayer structures, additives, coatings or labels have on recycled PET production. Source: PTI.
PTI is one of only two US companies approved by the Association of Postconsumer Plastic Recyclers (APR) to provide testing services in conjunction with the organization's guidance documents. The voluntary screening guidelines help companies understand what can happen to the PET package when it is time to dispose of it, says PTI Vice President Frank Schloss.
Packaging manufacturers continue to push performance boundaries with new resins, additives and multilayer structures to achieve longer shelf life and other attributes, but the downside is that frequently, little consideration is given to the impact on the recycling stream when these innovative packages enter it, says Schloss. With the app, users can see how the material, barrier, additive, closure and label decisions impact the next generation of rPET produced from the recycled containers.
The app is designed as a screening tool that helps users determine if more in-depth testing is required. The free download can be located by searching for "Recycle Calc" and looking for an icon with the PET resin identification logo. 
For more information:
Plastic Technologies Inc., 419-725-5613, www.plastictechnologies.com