Typically, processors increase the shelf life of dairy products by adding preservatives or stabilizers and enhancing the cleaning processes to minimize impurities that can spoil the product. These approaches, however, do not reduce contact of the product with airborne impurities, especially fungi.
Yeast and mold fungi significantly impact product shelf life and are the most influential agents that define how long a dairy product will stay consumable. But purging airborne microbes like yeast and mold is not easy due to their size, approximately 0.6 microns on average. Critical processing equipment with open vents or open areas negates the benefit of cleaning equipment, since it allows microbe-filled "dirty" air to come into contact with the product.
But Atmic-FF Fischer Planning Ltd., a Netanya, Israel-based manufacturer of air purification equipment, has developed an air displacement technology that creates and supports a clean environment inside the process equipment through the continuous delivery of purified air, says Friedrich Fischer, company president and inventor of SteriVent technology.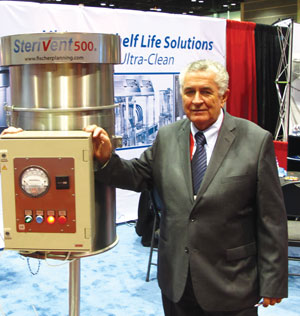 Friedrich Fischer, president of Atmic-FF Fischer Planning
Fischer founded Atmic-FF Fischer in 1994, with a focus on addressing the root cause of product shelf life problems, specifically targeting the extension of product shelf life without the use of preservatives. Fischer has designed processing lines for dozens of dairy, beverage and condiment makers. His interest in air purification technology began 10 years ago. Before that, Fischer worked for Tetra Pak in Germany as an advisor to clients with liquid food production lines. He later managed the R&D department at EGMO, one of the largest plants of Ehrenberg Group in Israel.
FE: What distinguishes your approach from other solutions?
Fischer: The central concept of our technology is to protect the internal processing space from external airborne impurities. We vent the processing space with purified air under positive pressure, displacing the processing gases (such as air or steam) throughout the air vent.
Constantly using purified air to create and maintain a "clean room" inside the vessel is the key; no airborne bacteria can enter the tank through the air vent against the air stream.
The SteriVent technology generates purified air at rates of 500 cubic meters per hour at an air pressure of about 20 millibar. It consumes 0.2 kW of energy, equivalent to a desktop computer.  A larger unit is capable of 3,000 cubic meters per hour at a similar air pressure using 2.6 kW of energy. SteriVent produces purified air at high flow rates with low pressure and low energy consumption.
A storage tank typically moves through six processing stages (cleaning, splashing, sterilizing, displacing, uploading and unloading modes) during CIP. At every stage, unpurified shop air can enter the tank and harm the product. An air purifier can play a key role at each step. Many processors contaminate their just-cleaned vessels with dirty air because the quality of the air moving through the air vent inside the vessel is not considered.
FE: To what degree is shelf life extended through air purification?
Fischer: It has shown major promise in dairy products, where air purification of processes creating drinking milk, yogurt, cottage cheese, curd cheese, soft cheese and other liquid products have seen shelf life extended by up to 30 percent without preservatives. This is a huge number if you consider that amounts to an additional 5-10 days of product shelf life. In one instance, the shelf life of soy milk doubled from 30 to 60 days.
FE: How does the purifier work?
Fischer: The SteriVent air purifier is designed for product tanks and hoppers. It is comprised of a pre-filter and blower, and a fine filter, in which plant air is drawn by a blower into the pre-filter and forced through the HEPA filter.
The sterile filter achieves 99.97 percent separation efficiency or class 100 cleanliness levels. A key function of the filter is that it captures microbes sized down to 0.3 microns. This quality is just enough to reach the objective of extended life systems, which is the protection of the product from yeast and mold fungi. The system is self-contained within a stainless steel housing and features a control box with PC communication and indicators for unit pressure, operation time and a tank under pressure alarm.
SteriVent technology, used for mixing and aging tanks, sugar tanks, hoppers and filling/packing chambers, delivers purified air and vents the processing space as a means to pare harmful microbes inside the equipment and eliminate the use of preservatives in the product.
FE: Is air venting common?
Fischer: Our air venting method is used widely in liquid food production, including the dairy and beverage industries. Some of our major clients include Coca-Cola, Nestlé, Danone and Emmi who employ our technology to reduce the use of stabilizers and preservatives. Technology vendors, including Tetra Pak, GEA and Krones, use SteriVent air purifiers on their processing and packing lines. However, Atmic-FF Fischer Planning has sold a limited number of units in North America so far.
FE: Why is the technology taking time to gain traction in the US?
Fischer: Many dairy product suppliers use more traditional, well-built open air systems. In this configuration, the product is exposed to the production room air at several open phases of the process. For example, in North America, cottage cheese is made with large open vats, where the milk stands and the curd is cut. But North American dairy companies are slowly changing, choosing to enclose each step in the process and venting the processing space with purified air.
FE: What is next for the technology?
Fischer: Atmic-FF Fischer Planning offers its SteriVent line of air purifiers, which have been used by food and beverage producers in Europe, Asia, Africa and the Middle East for 10 years, and the technology is now available in North America. It won a Dairy Technology award at the Drinktec Exhibition in Munich in 2009, and garnered the Innovation Technology award at the IDA Dairy Show 2011.
 Atmic-FF Fischer Planning also offers several other advanced technologies, including SteriFill for fluids and high-viscosity products like salads and dips, the SteriOzone ozone sterilizer for food containers, the SteriCIP system for cleaning piping and tank systems and the SplashProof laminar-flow air purifier for filling machines.