New Products
Technology Sourcebook
Static mixers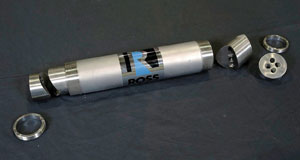 Engineered for laminar flow processes such as blending a minor component into a viscous stream, the Ross interfacial surface generator static mixer repeatedly combines and subdivides fluids of different viscosities or densities into layers until a homogenous mixture is achieved. The mixer can be supplied as a complete plug-in module or individual elements for installation into an existing pipe or tubing. Fabricated in stainless steel, polypropylene and Teflon, the mixer elements come in 5/8- to 24-in. diameter sizes. The steel housing can be fitted with flanged, threaded or tri-clamp connections; a heating/cooling jacket; injection port; and other custom features.
Charles Ross & Son Company; 800-243-ROSS; www.mixers.com


I want to hear from you. Tell me how we can improve.