Dry Processing
Dry Processing Technology
Sanitary sifters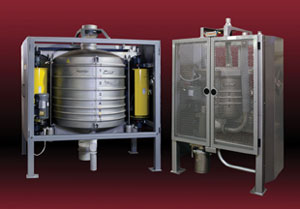 The Great Western QA series of sanitary sifters are designed for inline applications such as direct insertion in a pressure or vacuum conveying system. The unit operates with a horizontal gyratory sifting motion. Sanitary features include stainless steel contact parts and snap-on neoprene gaskets. Removable screen trays contain all of the interior serviceable components such as gasket, screens and cleaners.
Great Western Mfg.; 913-682-2219; www.gwmfg.com


I want to hear from you. Tell me how we can improve.