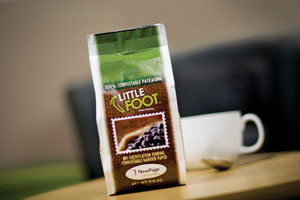 NewPage earned the Institute of Packaging Professionals' 2013 AmeriStar Packaging award for sustainability for its LittleFoot 100 percent compostable line of packaging that provides an oxygen and moisture barrier with a sealable layer. Source: IoPP.
Shelf-stable packaging for food products was a multiple winner at the Institute of Packaging Professionals'  2013 AmeriStar Package Awards Competition, with one submission earning the Sustainability Innovation award and three others being recognized as best in their categories. Thirty-two winners were named in 15 categories.
NewPage Corp., a supplier of flexible packaging paper for food and medical packaging, won IoPP's packaging award for sustainability for its new LittleFoot family of 100 percent compostable packaging barrier products.
Made in the US from renewable resources, LittleFoot is a packaging laminate that is fully compostable. Featuring paper laminated to metalized PLA or metalized cellophane, the product offers an oxygen and moisture barrier with a sealable layer that processes into barrier packaging. The substrate is easily integrated into existing converting equipment and offers an exceptional surface for printing. NewPage looks to commercialize the LittleFoot product line through partnerships and licensing agreements with packaging converters and strategic brand owners.
The Kashi Post-Consumer HDPE bag from Kellogg Company was one of three winners in the shelf-stable foods category. The package is the industry's first flexible stand-up bag for dry goods that uses film containing post-consumer recycled HDPE material that is FDA approved for direct food contact.
Kellogg selected post-consumer HDPE to reduce the amount of virgin resin required to produce the product, and to demonstrate another use for the material beyond non-food applications. The process by which the post-consumer resin is made requires less energy than it would take to create virgin resin. The finished pouch features a zipper consumers can open and close to help maintain product freshness; the pouch can contain more food per pound of packaging than a bag-in-box package. Consumers also can reuse the pouch as a zippered freezer bag for leftovers.
Kellogg sources the recycled HDPE packaging from Envision Plastics, the only provider of FDA-approved post-consumer HDPE in North America. Kellogg uses Envision's EcoPrime pouch, which contains at least 15 percent recycled material.
The pouch meets strict purity standards through a unique, patented cleaning process that eliminates all contaminants without exposing the resin to any chemical treatments or processes. EcoPrime is suitable for any food contact application where virgin HDPE is currently used, including frozen foods, milk and juice. Kellogg uses the packaging as a flexible food bag and will sell its Kashi GOLEAN Crisp cereals in the EcoPrime bag for a limited time while the company evaluates it.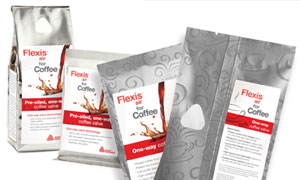 Avery Dennison won an AmeriStar award for its Flexis one-way coffee packaging degassing valve, which is comprised of multiple layers and designed to evacuate gas from the product while prohibiting oxygen ingress. Source: IoPP.
Frito-Lay also won in the category for shelf-stable food with its new Flat Bottom Pillow bag. The company patented a method and apparatus for producing the flat bottom package that has no gussets, features a wide mouth at the top for easy product access and can stand upright on its bottom transverse seal. The pouch can be made from the same film as a standard pillow pouch but requires less film than prior stand-up designs. It is produced on a modified vertical form/fill/seal machine using film with a thickness between 150 and 300 gauges, which is suitable for retail snack food distribution.
The Hershey Company was the third winner in the category, awarded for its Mixed Media Retail Ready display case. The case features two easy-to-remove perforated tabs that release the outer protective case from the inner display tray, allowing retail-ready display of the product. The case also features a design element called a kicker that secures the candy bars in the case during transport, as well as supporting the bars when they are tilted back in the case for display at retail.
PepsiCo's Pure Leaf Square HF PET container was best in the category for non-alcoholic beverage. The award-winning package is based on a hot-fill PET container that utilizes a novel square footprint and significantly reduces the number of grams of packaging/mL of product compared to previous glass packaging.
Avery Dennison also earned an award in the non-alcoholic beverage category for designing Flexis Air, a one-way degassing valve for coffee packaging. The patented multi-layer valve technology allows one-way flow of gasses such as CO2 out of the package, while providing a barrier to particulate contamination and atmospheric oxygen ingress.
The three-layer construction allows escaping gas to force its way through the engineered path in the valve and then through an exit channel, which opens only when higher pressure is present. The valve reseals once the gas has escaped, preventing oxygen ingress. Features include a hermetic seal, proprietary low-profile design and an easy open/close feature. The valve is suitable for lidding film, pouches and portion packs. 
For more information:
 Chris Barry, Institute of Packaging Professionals, 630-544-5050, cbarry@iopp.org