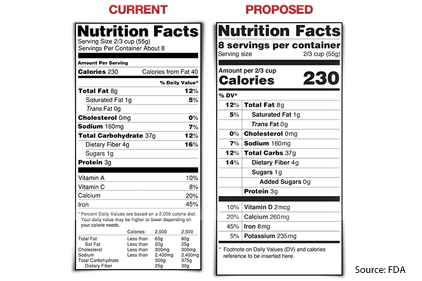 FDA's proposed updates to US food nutrition facts labels were presented on Thursday, marking the first major update since 1994. Changes include bold-faced, easier to understand serving sizes, more prominently displayed calorie counts and the inclusion of added sugars as a category.
Serving sizes will be listed by typical consumption rather than what people should consume--for example, 20 oz and 12 oz soda containers will each contain one serving--and larger packages will contain "dual column" labels with per-serving and per-package information.
"To help address obesity, one of the most important public health problems facing our country, the proposed label would drive attention to calories and serving sizes," says Michael Taylor, FDA deputy commissioner for foods and veterinary medicine.
"Diets, eating patterns and consumer preferences have changed dramatically since the Nutrition Facts were first introduced," says Pamela Bailey, president and CEO of the Grocery Manufacturers Association. "Just as food and beverage manufacturers have responded by creating more than 20,000 healthier product choices since 2002, and by providing tools like Facts Up Front front-of-pack labels, the FDA is responding with a thoughtful review of the Nutrition Facts panel.We look forward to working with the FDA and other stakeholders as these proposed updates to the Nutrition Facts label make their way through the rule making process."