New Products
Technology Sourcebook
Transfer pump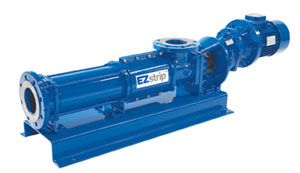 Used with PC pumps and associated products, the Moyno EZstrip transfer pump has a split coupling, offering direct access to the wear parts and rotating assemblies. It features a full drive train including a rotor, stator, shaft, rod and seal that can be removed without electrical disconnection, as well as suction and discharge ports that remain connected to the pipe work, eliminating dismantling lengths. The pump is available in cast iron or stainless steel with a choice of rotor and stator materials.
Moyno, Inc.; 877-4UMOYNO; www.moyno.com


I want to hear from you. Tell me how we can improve.