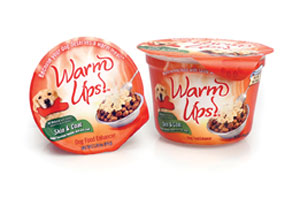 Just add hot water to this rigid polypropylene cup to create a hot meal for your pup. Source: Printpack.
A pet peeve for some dog owners is not being able to feed their pets a warm meal. But that problem is being addressed with a heated, moist supplement for dry food in a package familiar to the world of single-serve soups, pastas and snacks.
"We wanted a convenient single-serve package," says Richard Rothamel, CEO of Wexford Farms Pet Food LLC, a privately owned pet food company. "The package needed to provide functionality that allowed the consumer to just add hot water and easily mix [the product into the food]."
Warm Ups is the first creation launched by Wexford Farms. Recognizing the importance of creating a brand presence, the company turned to Printpack for the packaging, including the rigid cup, lidding and flexible shrink sleeve, explains Satara King, a marketing specialist for Printpack. Rothamel previously had worked with Printpack on several packaging projects.
Warm Ups is packaged in a rigid polypropylene cup with a high-gloss shrink label and easy-peel barrier lidding for an uncomplicated cooking method. To serve, dog owners peel off the protective lid, add hot tap water to the mix and pour or spoon Warm Ups over their dog's regular food.
The package is made of recyclable polypropylene (#5). Strides are being made to make these materials fit more easily into the recovery stream, explains King.
Printpack designed the cup with the strength to withstand hot temperatures without warping or losing structure integrity. The lidding offers protection and shelf stability by creating a tight seal.
"Benefits for the pet food manufacturer include a full-coverage, 360° image area on the shrink label with an additional area on the lid for showcasing high-impact graphics," says King. "By using this packaging technology, pet food manufacturers can distinguish their products from their competitors' bagged, pouched and canned items."
According to King, the pet food industry is slowly beginning to welcome advances in packaging that offer better performance than either the standard multiwall paper bag or metal can options that have been prominent for decades. In addition, the rigid plastic packaging is lightweight, portable and easy to use at home or on the go.
Printpack's next project for Wexford Farms is to use the Warm Ups packaging concept to create packaging for a second product line—a cup of dry dog food with the Warm Ups dog food enhancers already included. Four different serving sizes will be available to fit the needs of every breed.  v
For more information:
James Taylor, jdtaylor@printpack.com, 404-460-7000