New Products
Technology Sourcebook
Linear motor stages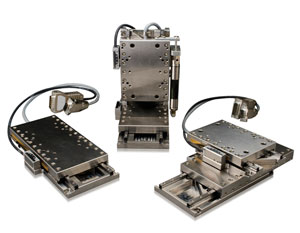 Kollmorgen MMG ultra compact linear motor stages have an integral anti-creep linear guideway that eliminates the homing moves to reset standard crossed roller bearing retainer cages; an integrated feedback mechanism eliminates the need for compensation tables or slope correction factors. The stages leverage a standard 3-phase brushless motor to enable control with a variety of off-the-shelf drives and controllers, without any specialized piezo or proprietary motor/drive technology. Used in constant velocity or high-throughput point-to-point applications, the stages provide uncompensated accuracy from 6 to 14um, resolution ranging from 1.0um to 5nm and repeatability to +/-0.4um.
Kollmorgen; 540-633-3545; www.kollmorgen.com


I want to hear from you. Tell me how we can improve.